Stephen Colbert To Replace David Letterman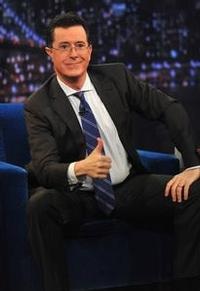 * Stephen Colbert To Replace David Letterman.
Let's put the pizza joints and ice cream joints and Chinese joints on hold for about 15 seconds…
Unless you live under a rock, you've heard that CBS- has signed Stephen Colbert to replace David Lettermen in 2015.
Now-Jeff Eats could be dead wrong here-but I think that ratings hungry CBS has made a huge
error…
Here's why-
The way I see it, having watched Stephen Colbert in one-form-or-another…he's basically a Liberal Democrat. Now, based on recent Presidential-Congressional elections I'm thinking that America is basically 50% Democrat and 50% Republican—Even Steven -liberal-conservative.
Now…I seriously doubt that Stephen Colbert is going to draw much of an audience from that 50% Republican-conservative segment. Folks who watch "late night" shows like Letterman and Leno (now Fallon) are looking for light-whimsical stuff-not sarcastic political humor.
Sorry CBS…you bought a guy who should be a switch hitter–but he only bats from the left side of the plate.
Catch you guys in 2015 and we'll see how Colbert is doing.
Now, back to pizza-ice cream-Chinese joints.