Rosie's Gourmet Italian Ices (Pembroke Pines)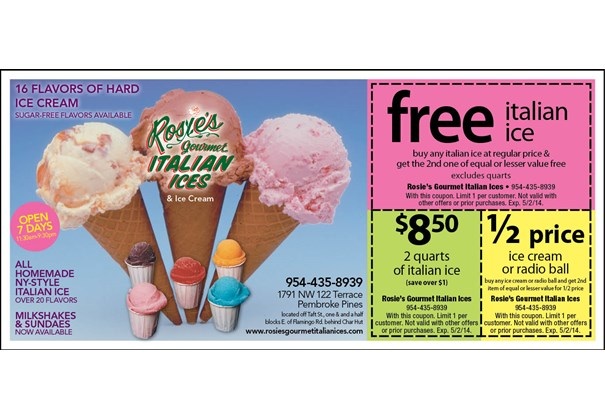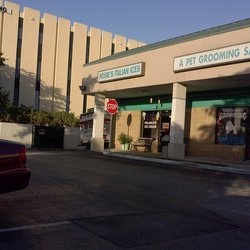 ***** Rosie's Gourmet Italian Ices, 1791 122nd Terrace, Pembroke Pines, Florida 33026, (954) 435-8939.
Let me kick-off this "story" by telling you, that "you never really know what life has in store for you."
With that in mind, I want you guys to know- that if "we" ever go on TV's "The Newly Wed Game"– and Bob Eubanks asks you what my-3 favorite foods/meals are- you should tell him…1. Jewish American Chinese, 2. Pizza-Italian, 3. Italian Ices.
With the above in mind, I got a great place for you to check-out…Rosie's Gourmet Italian Ices in Pembroke Pines.
Rosie's has been around since 1994 and makes its ices-in-house. At any given time, there are 20 flavors–and "they" rotate in and out of the line-up.
Trust Jeff Eats on this one, those Italian Ices cups that Publix and Winn Dixie sell are absolute crap–personally, I wouldn't waste even one-single calorie on hard-stale ices that have been sitting in some supermarket's freezer for God only knows how long—but then again, that's just me!
Anyway…
When you check Rosie's site www.rosiesgourmetitalianices.com–you'll find a list of water/cream ices-flavors that will blow your mind–
A recent outing had Jeff Eats "sampling" cherry/lemon/chocolate-chocolate chip water ices and cappuccino/pistachio cream ices and I gotta tell you- every flavor was right on the money. Now listen closely–Rosie's makes a thing called- Radio Ball, which layers soft serve ice cream (either vanilla, chocolate or swirl) with your favorite Italian ices—the Jeff Eats' Radio Ball of chocolate soft serve and vanilla chip cream ices was DELICIOUS! Not to go into detail, the Radio Ball Possibilities are endless–you mathematicians out there can figure out the exact number.
Rosie's Gourmet Italian Ices has indoor seating and the owners will let you "try" away at will. By the way, in addition to ices and soft serve-Rosie's has a number of hard ice cream flavors to choose from-just so you know, the ice cream and the soft serve is "bought" from an outside Miami distributor. Everything is good!- but the real game here is ICES!
To wrap this one up,
If you like Italian Ices, you'll love Rosie's Gourmet Italian Ices.
The joint is open Sunday-Thursday 11:30am-9pm, Friday-Saturday 11:30am-9:30pm.