American Pop 60's (Deltona Amphitheater-Deltona, Florida)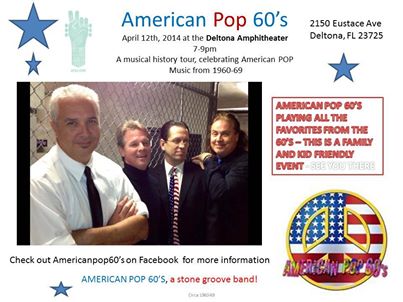 * American Pop 60's.
Way back on November 7, 2010- Jeff Eats told you guys about American Pop 60's–an absolutely amazing- 1960's Rock N Roll cover band based out of Orlando, Florida. That write-up is reprinted below.
It would be an understatement to say-that over the ensuing years since that article first appeared that- American Pop 60's public appearances have been extremely limited. Just so you know, the "primary" reason for the lack of gigs- was/is that American Pop 60's lead singer-Mark Dawson also happens to be the lead singer of the legendary 1960's group-The Grass Roots–and their USA touring schedule has basically shelved American Pop 60's for months at a time.
To make a long story short, on Sunday-April 12, 2014 from 7pm-9pm at the Deltona Amphitheater, 2150 Eustace Avenue, Deltona, Florida–American Pop 60's is performing a FREE-2-HOUR CONCERT.
If you like 1960's Rock n Roll…and will be anywhere near the Deltona Amphitheater on April 12th…do yourself a big favor and catch this band in action.
Trust Jeff Eats on this one…in my day I've seen tons of 60's recording bands and tons of 60's cover bands–and American Pop 60's is right up there with the best of them.
American Pop 60's is a band not to be missed!
*****
***** AMERICAN POP 60′s *****
Posted on November 7th, 2010 · Other ·
***** American Pop 60′s *****
If you like 60′s Rock N Roll, I got something for you…American Pop 60′s, a terrific 4-piece 1960′s cover band based in Orlando, Florida. The group does absolutely perfect renditions of American hits from 1960-1969. The band also has a big kicker…namely, lead singer Mark Dawson…who also- happens to be the current lead singer of the lengendary 1960′s-1970′s band, The Grass Roots who have sold over 20,000,000 records worldwide…with hits such as–Let's Live For Today, Sooner Or Later, Where Were You When I Need You, Temptation Eyes, Midnight Confessions. Two Divided By Love, Wait A Million Years, The River Is Wide.
Like I said before, if you like 1960′s American Rock N Roll…you will absolutely love American Pop 60′s. In addition to a "mini" Grass Roots concert, American Pop 60′s performs hauntingly accurate versions of gold & platinum hits by groups– The Buckinghams, Gary Lewis & The Playboys, Three Dog Night, The Doors,The Rascals, just to name a few.
I recently saw American Pop 60′s at a private party…they blew me away. They are sensational.
Look for this band- to start making the rounds of South Florida's residential communities, country clubs and concert venues…www.ap60.bandzoogle.com.