Rollatini Italian Restaurant & Pizzeria (Lake Worth)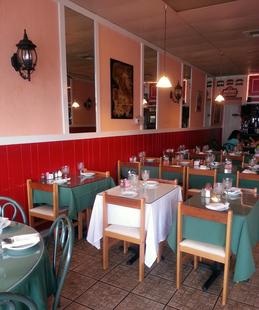 ***** Rollatini Italian Restaurant & Pizzeria, 7125 Lake Worth Road, Lake Worth, Florida 33467, (561) 721-0089.
Just got back home from eating at Rollatini Italian Restaurant & Pizzeria- a mom & pop" red sauce Italian joint in Lake Worth. Jeff Eats is thinking that maybe Rollatini seats 60–its menu has the full boat of appetizers, pizzas, pastas, subs, meat/chicken/seafood entrees. You can check menu/prices at www.rollatinirestaurant.com.
Tonight's menu had "cash" and "credit card" prices…soup or salad, entree with pasta side/or vegetable side/or potato side, beverage–cash $14.99 credit card $15.99. While there, I also checked Rollatini's lunch menu–suffice it to say, that Monty Hall would have had a blast at Rollatini.
Jeff Eats, Mrs. Jeff Eats and another couple-ordered, veal parmigiana, chicken cacciatore, veal & eggplant parmigiana, meat lasagna-house salads, minestrone soups. garlic knots.
The verdict…the food was OK–but that's about it. To be honest with you, other than the chicken cacciatore the other stuff wasn't worth wasting calories on.
For our purposes–let's call Rollatini a "quantity/price over quality" joint…big-portions, cheap prices, decent service.
Look!
There are loads of folks down here–looking for a lot of food-for relatively cheap money. Suffice it to say, many of them will sacrifice QUALITY to get soup or salad–garlic knots–entree-pasta side-beverage in that quest. Not trying to be nasty or nothing, but that's the only reason why I could see someone "picking" Rollatini. Now in all fairness, while at the restaurant at least 12 people raved about the food–so just maybe Jeff Eats "missed" something there–I don't think so, in that a bunch of those same folks also told me-that Rollatini use to have a "deal" where they got soup, salad, garlic knots, entree, pasta side, dessert and beverage for a buck less-than the current $14.99-$15.99 rate.
Let me wrap this one up..
Rollantini definitely serves a purpose–for some people. Trust me, I got no problem with how you or anyone else spends or counts their money–the joint just ain't for Jeff Eats.
Rollatini Italian Restaurant & Pizzeria is open 7 days a week 11:30am-9pm.