Bo's Ice Cream (Tampa)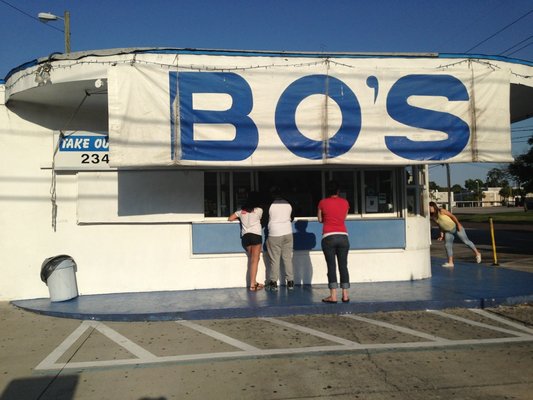 ***** Bo's Ice Cream, 7101 North Florida Avenue, Tampa, Florida 33604, (813) 234-3870.
Bo's Ice Cream…free standing/soft serve ice cream joint—walkup window/drive thru/seating-2 outdoor picnic tables.
Think Dairy Queen or Carvel and you'll be on the right page.
What makes Bo's "special"? –well for starters-the joint has been around since 1954…the vanilla soft serve covered in butterscotch–the upside banana split in a cup–the chocolate soft serve with Heath Bar (like DQ's Blizzard–but it's called Thick N Chunky)–that Jeff Eats and Mrs. Jeff Eats gobbled down.
Call me sentimental, but while sitting at one of the picnic benches–Jeff Eats just imagined what terrific times/memories–this 60 year old joint had generated.
I don't know about you guys…but I remember "my" Sam's Candy Store—Brooklyn circa 1950s-1960s as if it was just yesterday.
The way I see it, it's the Bo's of the world that help put things in proper perspective–but that's just me!
Bo's Ice Cream is open 7 days a week 11am-11pm.