Coney Island Sandwich Shop (St. Petersburg)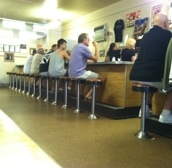 ***** Coney Island Sandwich Shop, 250 Dr. Martin King Jr. Street North, St. Petersburg, Florida 33705, (727) 822-4493.
Coney Island Sandwich Shop has been in business since 1926…counter seating/handful of booths. Give or take–the joint probably looks just like it did when it first opened for business some 88 years ago (I did the math for you).
Real simple menu–hot dogs, hamburgers, handful of sandwiches, shakes…no french fries.
Coney Island Sandwich Shop is "famous" for its Smithfield pork/beef flat-top grilled hot dog topped with yellow mustard/chopped onions/chili–washed down by one of its milkshakes -so, when in Rome, Jeff Eats does as the Romans do–I had a chili dog and washed it down with a chocolate shake. On the hot dog side of the ledger–okay, but nothing great…as for the shake-real good. The tab with-tip $7. By the way, this is a cash-only joint.
Let me wrap Coney Island Sandwich Shop up for you…when you walk into the joint it's as if you went back in time…really-really cool. Nothing for nothing, Jeff Eats loves really-really cool, but -if Coney Island Sandwich Shop didn't have the Memory Lane Card in its deck…it would be hard for me to recommend a visit.
Coney Island Sandwich Shop is open Monday-Friday 11am-7pm, Saturday 11am-4pm, closed Sunday.