Square 1 Burgers & Bar (Fort Myers, Brandon, Sarasota (2), St. Petersburg Tampa,)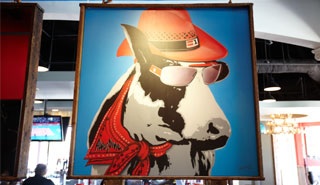 ***** Square 1 Burgers & Bar, 5031 South Cleveland Avenue, Fort Myers, Florida 33907, (239) 931-8111.
Got an absolutely terrific- full service BURGER joint for you…Square 1 Burgers & Bar. For right now, this small Florida-chain has 6 locations with a seventh location scheduled to open in The Villages, Florida early next month.
Just so you know, Jeff Eats "tried" the Square 1 Fort Myers' location–so this "critique" is only for that particular joint.
Real fast…
Square 1's décor is done in "cow"–check website www.square1burgersbar.com and you'll know what I'm talking about. It has indoor/covered outdoor patio seating–and a full bar that serves both inside/outside window seating. The joint's menu is basically salads, burgers, shakes.
Trust Jeff Eats on this one…If you like flat top grilled burgers (beef, chicken, duck, turkey, lamb, kobe, veggie) French fries, onion rings, shakes–you're gonna love this joint.
A recent outing had Jeff Eats doing a cheeseburger (burgers are 6 oz.) with French fries…Mrs. Jeff Eats did a lamb burger with sweet potato fries. We split a chopped salad and an order of onion rings. Our meals were washed down with chocolate and vanilla shakes–by the way, Square 1 uses Blue Bell Ice Cream in its shakes.
Let me wrap this up for you…
Square 1 Burgers & Bar is a homerun. The only problem- I have with this chain–is that for right now it's not "chaining" in the Dade-Broward-Palm Beach area. I am telling you, Square 1 Burgers would absolutely kill-it in "our" neighborhood.
You can check menu/prices/photos/locations/other info at www.square1burgersbar.com.
Square 1 Burgers & Bar is open Sunday-Wednesday 11am-10pm, Thursday 11am-11pm, Friday-Saturday 11am-midnight.