* Insane Cookies (Pembroke Pines)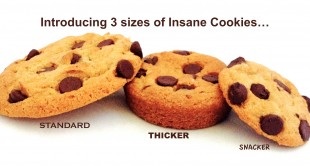 * Insane Cookies, 9924 Pines Boulevard, Pembroke Pines, Florida 33024, (954) 800-0350.
Real fast…
Mrs. Jeff Eats has a real-good friend (let's call her Mrs. Baker) who is an absolutely phenomenal "home" baker…over the years, Mrs. Baker has baked pies, breads, cakes, cookies–that rival some of the best stuff that I've eaten/gotten in South Florida's best bakeries/restaurants.
To make a long story short…
The other day Mrs. Baker told me that I had to check out–Insane Cookies in Pembroke Pines. Insane's story…it's a "fresh baked" cookie business (owned by Brandy Cohen) that shares space with a kosher/retail bakery- Master Cake Bakery in Pembroke Pines. You can order cookies 1 of 3 ways, place the order at the store, order online (www.insanecookies.com), or call the store ((954) 800-0350). All of the cookies are baked to order-and Insane Cookies usually needs 48 hours lead-time. Mrs. Baker told me that Insane Cookies were absolutely incredible. Mrs. Baker also told me, that Insane Cookies will "bake" any combination–that your mind can conjure up. On the delivery front, Insane Cookies–pickup at the store, or Insane for a fee will have the cookies delivered to you.
Based on the "source" and some "internets" checking, Jeff Eats-placed a phone order with Brandy Cohen. I'll have the cookies in a day or so–so I'll let you guys know if Mrs. Baker came-up with a winner for us.
One final thought, just so you know- Jeff Eats "knows" his cookies…not to be a name dropper-or nothing, but in my day I've gotten from the best-like, Sutter's Bakery, Glaser Bake Shop and William Greenberg Desserts–so I'm qualified to make the call-here!
In the meantime, take a look at the "list" of cookies- Insane Cookies has:
Cookie Flavors:
A – Cannibal – Classic Cookie with Mini Oreos
B – Chocoholic/PMS* – Chocolate Brownie Dough with Dark Chocolate Chips
C – Daddy Issues* – Chocolate Chips with Pecans
D – Day Dreamer (Piña Colada)*- Rum, Coconut Flakes & Pineapple Chunks
E – Delusions of Grandeur*- White Chocolate Chips, Macadamia Nuts & Caramel Bits
F – Exhibitionist* – White Chocolate Chips, Cranberries & Pistachio Nuts
✩ – Family Dysfunction*- Pumpkin Spice Dough with Creamy White Chocolate Chips (Seasonal Cookie)
G – Feeling Blue* – Lemon Dough with White Chocolate Chips & Blueberries
H – Homesick*- French Toast Dough topped with Cinnamon Sugar
I – Identity Crisis*- Peanut Butter Dough with Chocolate Chips, Peanut Butter Chips & Mini Reese's Cups
J – Imposter* – Chocolate Brownie Dough with Raspberry Filling
K – Insomniac* – Coffee Flavored Dough with Extra Espresso Powder & Jumbo Dark Chocolate Chips (Mocha Espresso)
L – Martian Abduction* – Red Velvet Dough with White Chocolate Chips
M – Masochist * – Spicy Chocolate Brownie Dough with Chocolate Chips (Crushed Red Pepper added for "inferno hot")
N – Mommy Issues* – Classic Chocolate Chip
✩ – Narcissist *- COMPLETELY CUSTOM- Choose Your Dough and Up To Any 3 Add-Ins
O – Peter Pan Complex* – Mini M&Ms & Sprinkles
P – Procrastinator* – Coffee Flavored Dough with White Chocolate Chips (Caffé Latte)
R – Shopaholic* – Classic Dough with four kinds of chips: Chocolate, Butterscotch, White Chocolate & Peanut Butter
S – Simply Nuts* – Peanut Butter Dough with Macadamia Nuts, Unsalted Peanuts & Walnuts
T – Sunshine Addiction – Butterscotch Chips & Pretzel Sticks
U – Thrill Seeker – Chocolate Brownie Dough with Green Mint M&Ms & Chocolate Covered Mint Pretzels
V – Wallflower – Cinnamon Oatmeal Dough with Raisins & Walnuts
Assortments:
Custom Assortment* – Choose any three cookie flavors per dozen
Sol's Crazy Assortment – 2 dozen cookies, which includes 4 of each of these flavors: Cannibal, Chocoholic/PMS, Delusions of Grandeur, Identity Crisis, Mommy Issues and Procrastinator
Sol's Kooky Assortment – 2 dozen cookies, which includes 4 of each of these flavors: Day Dreamer, Family Dysfunction, Feeling Blue, Homesick, Thrill Seeker and Wallflower
Sol's Wacky Assortment *- 2 dozen cookies, which includes 4 of each of these flavors: Daddy Issues, Exhibitionist, Insomniac, Martian Abduction, Peter Pan Complex and Simply Nuts
Marta's Loco Assortment *- 3 dozen cookies, which includes 36 of the most popular flavors