College Cookies!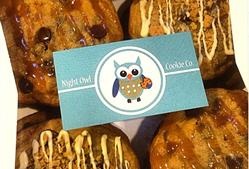 * College Cookies!
Jeff Eats recently got an email from Tad G. Take a look at it:
Hey Jeff,
Like you, my parents were born in Brooklyn.
My dad attended Madison HS and my mom went to Lincoln HS.
Based on your site's bio, your about 8 years older than they are.
We moved to Delray Beach in 2004.
I'm currently a junior at the University of Miami.
I have friends at colleges all over the United States and a number of them told me that there are local companies that deliver in the evening fresh baked cookies/milk/other items to dorms and apartments on/near campus.
There is a company in Miami named Night Owl Cookie doing the same thing.
I was wondering as to what you think of this type of business?
The reason I ask, I was thinking that maybe this cookie delivery business could develop into a huge national business with a handful of dominant players.
My dad and a few of his friends maybe willing to bankroll a startup for this.
Would appreciate your thoughts.
*****
Jeff Eats "reply"–
Tad G.:
The cookie "delivery" business that you mentioned is an interesting concept.
Jeff Eats first heard about it about 6 years ago from a student at Indiana University.
Since then, I have kept an eye on the "industry" and note that many "college towns" have some type of variation on the concept.
If you check Insomnia Cookies (www.insomniacookies.com) which was started in 2003 by a University Of Pennsylvania student currently has 40 locations.
Not to burst any bubbles, but personally I think that it's a limited business.
Unlike pizza, wings–I just don't see "cookie delivery" as being really huge no matter what time it is.
Not saying it doesn't work, but I don't think that it works everywhere like Burger King, Subway.
I think that cookies are a really limited product.
Hope my thoughts help.