* Another Cookie Story For You!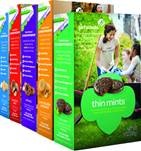 * Another Cookie Story For You!
This morning Jeff Eats "did" two cookie-stories…"College Cookies" and "Insane Cookies."
Thought you guys you would enjoy reading this-story "Girl Scout Break Cookie Selling Record" that I just read on AP-
One quick thought, this kid would be real "dangerous" at a Tupperware Party…Can't even fathom what it would be like to "encounter" this kid while walking into Publix!
*****
"Girl Scout Breaks Cookie Selling Record…18,107 boxes of cookies. That's what it took for an Oklahoma City sixth grader to narrowly break the national record for Girl Scout cookie sales.
According to ABC, 12-year-old Katie Francis has broken a 30-year-old record of 18,000 boxes. She was also the top cookie seller nationwide in 2013.
The Oklahoman points out Katie broke the state record in Oklahoma the last two years. She told the paper she has sold thousands of boxes in the past.
"Well, the first year that I sold, I sold 2,004. The year after that, I sold 7,482. And then just this last year, I sold 12,428."
So what's Katie's secret? According to USA Today, it's a whole lot of dedication.
Katie says she asks everyone she sees if they would like to get a box. On school days, she would be out selling cookies all over the area until after 9 p.m. And, on weekends, she'd spend at least 12 hours out on the streets selling cookies, with her mom driving her around the city.
Katie's mom told the paper her daughter hopes to sell 100,000 boxes of girl scout cookies by the end of her girl scout career. As for this year, Katie still has a few more days to sell cookies. Girl Scout cookie sales end March 30."