The Wow Factory (Coconut Creek)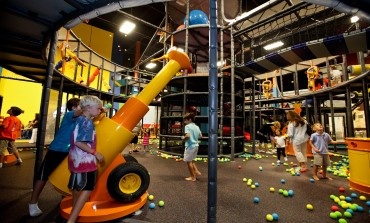 ***** The Wow Factory, 5891 Lyons Road, Coconut Creek, Florida 33073, (954) 380-8600.
As a former CEO of a Discovery Zone franchise-company…let's- just say that Jeff Eats is kinda- familiar with Family Entertainment Centers.
If we-forget about "national" chain Chuck E. Cheese's- I seriously doubt that you guys can name even-one Family Entertainment Center in South Florida.
With the above in mind…
I recently came across- The Wow Factory in Coconut Creek-and I gotta tell you that I was super-impressed.
This 22,000 sq. ft. facility has all-kinds of interactive games/arcade games/food court–that will keep toddlers-10 year-olds… busy for 2-3 hours.
Trust Jeff Eats on this one…I know "my" family-entertainment-centers and The Wow Factory is a clean/well staffed/well planned out facility.
Check out www.wowfactoryfun.com for admission charges/activities/birthday parties/hours/photos/other info.
The Wow Factory is open Monday-Thursday 10am-6pm, Friday-Saturday 10am-10pm, Sunday 10am-8pm.