*THE BSTREET BAND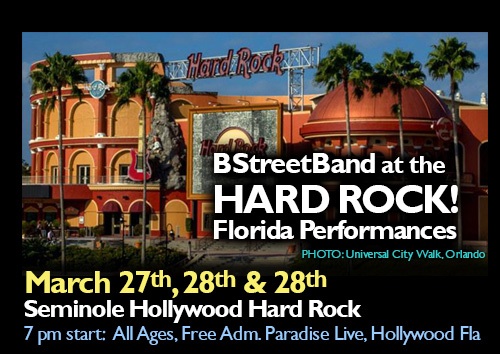 * THE BSTREET BAND.
Not to be too repetitious or nothing…but THE BSTREET BAND has a number of South Florida dates–coming up.
Jeff Eats is a huge "fan" of this Bruce Springsteen tribute-band and tries to catch this South Jersey based group-when it plays South Florida.
If you check, I've mentioned THE BSTREET BAND in several previous "stories"–suffice it to say, if you like/love Springsteen you're gonna really enjoy this band-they are really good!
For what it's worth-Jeff Eats, Mrs. Jeff Eats and another couple are planning on seeing the band at the Hard Rock Hotel & Casino in Hollywood on Thursday night, March 27th.
Printed below are South Florida dates listed from an e-mail which I just received from the band.
*****
Sun March 23 The Sandy Parrot, Fort Myers, Fla
(7:30 Start) Tamiami Trail fort Myers, Fla www.Sandyparrot.com For info Call 239-454-8454 First Appearance
Tue March 25 Tampa Bay Rays/ Boston Red Sox MLB Baseball Game Port Charlotte, Fla (11 Am and after Game) Charlotte Sports Park, Fla Concert Free w/ticket purchase: Visit our buddy Manager Joe Maddon and the Tampa Crew!
Wed March 26 Carsons Tavern Stuart Fla: Fundraiser for Volunteers in Medicine (Tickets $50 and limited) Proceeds benefit nonprofit medical clinic for indigent Martin county residents since 1995 located at Carson's Tavern SE Ocean Blvd, Stuart, FL For more info check this site: www.vimclinic.net/vim-events-2/rockin-with-the-b-street-band
Thu March 27 Seminole Hollywood Hard Rock Hotel/Casino Hollywood Fla (7 Pm Start: Free Adm: All Ages) Paradise Live Outside: Hollywood, Fla
Fri March 28 Seminole Hollywood Hard Rock Hotel/Casino Hollywood, Fla (7 Pm Start: Free Adm: All Ages) Paradise Live Outside: Hollywood, Fla
Sat March 29 Seminole Hollywood Hard Rock Hotel/Casino Hollywood, Fla (7 Pm Start: Free Adm: All Ages) Paradise Live Outside: Hollywood, Fla