* Malt Shop Memories Cruise–2014!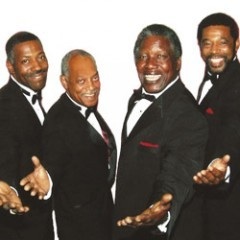 Charlie Thomas' Drifters
* Malt Shop Memories Cruise–2014!.
I don't know about you, but Jeff Eats doesn't know anyone who's getting any younger…
With that in mind, take a look at "Malt Shop Memories Cruise" (www.maltshopcruise.com)– which is a 7-nights/ Rock N' Roll Cruise that leaves from Fort Lauderdale on Sunday, November 2, 2014 and returns Sunday, November 9, 2014. Ports of Call include, Fort Lauderdale– Falmouth, Jamaica– Grand Cayman Island– Cozumel, Mexico– Key West, Florida.
Jeff Eats knows that you guys are smart…so I'm pretty sure that I'm not telling you "something" that you don't already know about–that being, major cruise-lines holding-huge "MUSIC" events on the hi-seas. For the "younger folks" out there- Electronic Dance Music cruises…for the "sophisticated folks" out there- Jazz cruises–so on and so forth. Could say something about the Country Music cruises, but why start trouble!–let's just leave it–that the last time Jeff Eats was on a horse (actually it was a pony) was in 1955–on a pony ride at the intersection of Cortelyou Road and East 8th Street, Brooklyn, New York–when Mr. Peters who also had a traveling-ferris wheel charged -neighborhood kids 25 cents a ride. I'm sure some of you guys remember "your" Mr. Peters, as well as your soda man, your milkman, your knife sharpening man, your ice cream man, your vegetable man…sure was a simpler time, don't cha think?
Anyway…
Jeff Eats just wanted to tell you about Holland America's "Malt Shop Memories Cruise–2014" …this is for the 1950s-1960s "oldies" crowd out there. Now- I'm just roughing this out for you–but figure that the cruise is gonna run you something like $2,500 (some cabins are more/some less). Now nothing for nothing–$2,500 is some heavy change, but when you really think about it- you are getting a "room" for 7 nights, 21+ meals, concerts/special events…do the math–and that $2,500 number really isn't all that terrible–actually, it's a bargain!…and like I said a few seconds ago, Jeff Eats doesn't know anyone who's getting any younger.
Here's the list of the performers that will be onboard…
Dion
The Temptations
Brenda Lee
Herman's Hermits starring Peter Noone
Lloyd Price
Jan & Dean's Beach Party starring Dean Torrence
Martha Reeves & The Vandellas
Charlie Thomas' Drifters
Kenny Vance & The Planotones
The Duprees
Ricky Nelson Remembered with Matthew & Gunnar Nelson
The Legendary Teenagers
Little Peggy March
The Excellents
Al 'Lil Fats' Jackson
The Cameos
Elvis Tribute Artists
Comedian Joe Piscopo
Jerry Blavat
Before I wrap this one up…let's run the "numbers" for this cruise…
Now follow me, for argument sake let's say that a hotel room is worth $75 a night–so 7 X $75= $525…let's figure 21 breakfasts at $10 each (too high? let's make it 8 bucks a piece) that's $168…let's figure 21 lunches at $10 each that's $210…let's figure 21 dinners at $20 (too low? let's make it $25 a pop) that's $525—so right off the bat we got $1428 for room & board. That means we got to justify roughly another $1072 for entertainment. Now "fun" is -purely a subjective thing–but in checking the "internets" I found that a Dion ticket for an upcoming show at a New York Indian Casino is fetching 72 bucks–and a joint appearance with Charlie Thomas' Drifters in June at the Beacon Theatre is going for $113—now we can play with the numbers all we want–ALL I KNOW is that none of us is getting any younger–and just maybe "you" would enjoy eating dinner with Dion and his wife SUE (you can ask her), or talking to Charlie Thomas about Ben E. King, or finding out from Llyod Price how he recorded Stagger Lee. Nothing for nothing…to paraphrase that MasterCard commercial …"Somethings are Priceless." Capice!
Malt Shop Memories Cruise will draw something like 2,000 people for this cruise. Past-Malt Shop Memories Cruises in 2011, 2012, 2013 were sold-out affairs.
This cruise is going to be an absolute "oldies" blast.
Check www.maltshopcruise.com for itinerary/cabin pricing/other info.