Batch Gastropub (Miami)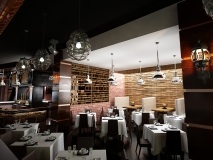 ***** Batch Gastropub, 30 Southwest 12th Street, Miami, Florida 33130, (305) 808-5555.
For our purposes, let's call Batch Gastropub an "American-Style–Sports Bar." When you check menu/prices at www.batchmiami.com you'll also find a load of pictures–the joint is really great looking, with dark-wood booths and of-course loads of flat screen tvs (Do they still make "fat" screen tvs?)
You know and Jeff Eats knows that "sports bars" are literally a dime a dozen down here in South Florida…for sure, "we've all been in tons of them…and I gotta tell you, I was very impressed with Batch Gastropub.
For you drinkers out there…Batch has something like 15 (give or take) beers on tap, and maybe another 20 by the bottle.
Now let's talk about FOOD–Jeff Eats' real-game…
Just so you know, Batch's menu isn't exactly huge…that said, there are enough appetizers, burgers, salads, pizzas, entrees–so I'm thinking- no-body in your party is gonna have to stop at Wendy's on the way home.
A recent dinner had Jeff Eats, Mrs. Jeff Eats and two other couples "doing"…margherita pizza, cheeseburger, hanger steak skewers, mushroom crusted mahi mahi, meatloaf, gnocchi mac & cheese/carmalized onions, truffle salt & shaved truffle cheese fries…and I gotta tell you, no one-bicthed about anything. If Jeff Eats had to give out awards, I thought that the gnocchi, fries, cheeseburger were the stars of the game. Between you and me–the gnocchi was amazing–the joint uses gnocchi with gruyere cheese and for an up-charge has 10 items that can be added to the basic dish–such as chicken, steak, bacon, carmalized onions (check the menu for the full list).
Like I said at the top, I was very impressed with Batch Gastropub…food was solid, service was good, prices exactly what you'd expect in an upscale-sports bar (you can fill in what you think these numbers should be)–one little draw back, the background music was a drop too loud for Jeff Eats' crowd.
Gastropub is open Sunday-Thursday 11:30am-3am, Friday-Saturday 11:30am-5am.