Tio Colo Bocaditos de Helado (Miami)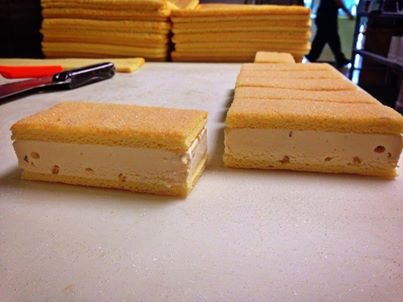 ***** Tio Colo Bocaditos de Helado, 6268 Southwest 8th Street, Miami, Florida 33144, (786) 536-9007.
Jeff Eats loved, Tio Colu Bocaditos de Helado…a hole in the wall ice cream store that has a handful of tables inside/outside.
Real simple concept…the joint makes "Cuban" ice cream sandwiches.
All of the ice cream is made in-house, figure something like a dozen different flavors—the ice cream which is hard-is then sandwiched between two slices of soft pound cake that are dusted in sugar. You pick your sandwich-out of a large freezer.
To make a long story short…Jeff Eats "sampled" (well someone has to do it!) chocolate, coconut, almond, dulce de leche-and I gotta tell you–this stuff is addictive…delicious ice cream/delicious pound cake.
As I mentioned a few seconds ago, I loved this joint…and if you like ice cream, you'll be on the same page as Jeff Eats.
Tio Colo Bocaditos de Helado is open Tuesday-Friday 11am-8pm, Saturday noon-9pm, closed Sunday-Monday.