Ruven's (Delray Beach)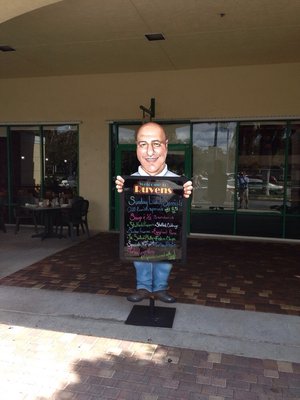 ***** Ruven's, 13800 Jog Road, Delray Beach, Florida 33484, (561) 499-9003.
Back on February 20, 2011 Jeff Eats told you guys about Ruven's a New York Kosher Style Deli that had just opened for business in the San Marco Shopping Center in Delray Beach. To make a long story short– Ruven's opened in a spot where two bagel/delis had previously failed. I guess, Ruven's owner, Steve Ratinetz was betting on real good food and "three times the charm" to make Ruven's a winner…
Anyway…
Here it is 3-years later and Ruven's is "sort-a" still around. Now follow me, a few months ago, Ratinetz moved Ruven's…3 maybe- 4 bays down-into a store formerly occupied by Lenny's New York Grille.
Anyway…
No doubt in Jeff Eats' mind…the 'new" Ruven's is now in a much better spot–that being right next door to Publix. Same food and service-with the "new" Ruven's featuring a really cool "lower NYC east-side" circa 1940-1950 decor. Having eaten in Lenny's numerous times, I can tell you-that Ratinetz did a great job in combining his own decorative ideas with Lenny's decor remnants.
Just wanted to re-introduce you guys to an old-favorite of mine.
Now…Does Ruven's qualify under the "three times the charm" rule?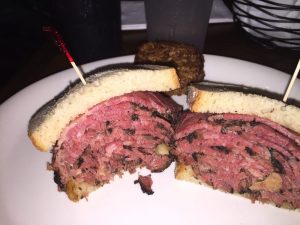 The original February 20, 2011 review is reprinted below.
***** Ruven's, 13800 Jog Road, Delray Beach, Florida 33484, (561) 499-9003.
Bingo!— Home Run!
If you are looking for a terrific-New York Kosher Style Deli—your wish has been answered. Say hello, to Ruven's which opened last Wednesday in Delray Beach. For right now, the joint is open 7 days a week from 8am-3pm—look for "dinner" to be added sometime in late March.
Just some background info… "this" Ruven's is owned by Steve Ratinetz who in the mid 1990′s-2003 owned/operated Ruven's in Plainview, New York—which was an absolutely terrific kosher deli. My January 25, 2011 Ruven's of Long Island writeup- has more "history" if you are a history-buff.
You know and I know, that South Florida has more bagel delis than you can shake a stick at…just for the record, Ruven's is not and I repeat the word NOT, a bagel deli. For sure, it has the requisite "500″ types of bagels, bialys and onion boards—that said, this joint is all about pastrami- corned beef- brisket- turkey- stuffed derma- potato pancakes- blintzes, chopped liver-stuffed cabbage-fried kreplach-matzo ball soup—that rival the best stuff served in NYC, Chicago…or for that matter, anywhere that you formerly called home.
If there is one thing that Jeff Eats knows—it's good deli.
This afternoon, in no particular order– I did a "taste test" of pastrami, corned beef, brisket, turkey off the bone, matzo ball soup, cabbage soup, stuffed derma, potato pancakes, chopped liver. fried kreplach…absolutely delicious.
Based on Jeff Eats' "maiden outing"—I'm putting Ruven's right up there with South Florida's best New York Kosher Style Delis. Throw-in huge portions at reasonable prices…and I can't see Ruven's not quickly developing an enormous following.
You now know about a terrific deli—this one is a keeper!