Aruba Beach Cafe (Lauderdale-by-the-Sea)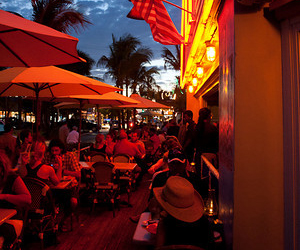 Aruba Beach Café, 1 Commercial Boulevard, Lauderdale-by-the-Sea, Florida 33308, (954) 776-0001.
I'm gonna guess here, but I'm thinking that "American-Style" Aruba Beach Café has been around for something like 30 years.
The joint is a real-cool looking lunch-dinner spot, with indoor/patio seating right on the beach. When you check www.arubabeachcafe.com for menu/prices you'll also find video/photos so you'll know what- Aruba Beach Café looks like.
Just so you know, although Jeff Eats has been "down here" in Sunny South Florida for over 21 years-I've only eaten at Aruba twice. The reason, some 20 years ago–Jeff Eats recalls eating at Aruba Beach Café (for the first time) and being "shocked" that the joint CHARGED FOR BREAD…right there and then, I wrote the joint "off." To make a long story short, a few days ago-Jeff Eats at the invite of his friend Mike-found himself at Aruba Beach Café for lunch. No bs-here, the joint is still charging for bread-with a 1/2 loaf going for 2 bucks and a full loaf fetching- 3.
Now to be fair, a joint that's been open for-30 years (give or take)–probably has something- going for it! To be real, just because Jeff Eats doesn't "see it" doesn't mean that it ain't there. I maybe making way too much of this bread-thing, but I hate joints that nickel and dime folks–and that's what I think Aruba is doing. Look, Aruba draws a huge tourist clientele and I guess it "feels" that it can hit "them" up for $2-$3 without any problem–sort of like you paying $5 for a bottle of water at a Heat game in Miami…the arena and in this case- Aruba Becah Café figure that you're a captive-audience, so they can squeeze you for a few extra shekels and you won't bitch too-loud.
Anyway.
Aruba Beach Café has a full-liquor bar and a menu loaded with appetizers, salads, sandwiches, burgers, entrees, desserts…the joint also has a full schedule of "live" music.
That recent "Mike" lunch had Jeff Eats trying…Maryland crab cake, cheeseburger/French fries, chicken quesadilla and I gotta tell you, the food was decent enough. Putting the "bread issue" aside–my two Aruba Beach Café outings would have been memorable–BECAUSE of the fantastic location-rather than the food that I had.
Let Jeff Eats wrap this up for you…
Aruba Beach Café is a great looking restaurant in a fabulous location.
The food is ok-but that's about it.
The joint is always busy because of its location–it's a real favorite with tourists.
The joint's menu has all the bases covered, but is heavy on the seafood side of the ledger.
The joint is open Monday-Tuesday 11am-1am, Wednesday-Saturday 11am-2am, Sunday 9am-1am (breakfast buffet 9am-11:30pm).
The joint's Bimini Bread-(which by the way isn't all that great) should be FREE.
Like I said before, I may-be reading this joint all wrong…don't think so, but it's possible.
So…if you get there or have been there, let me know- your take!