Mary's Kountry Kitchen (Tavares)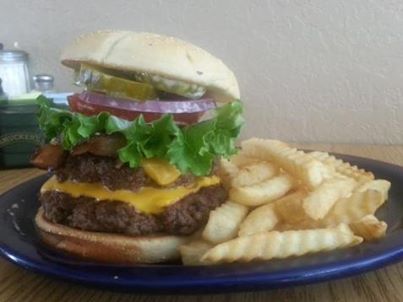 ***** Mary's Kountry Kitchen, 15945 County Road 448, Tavares, Florida 32778, (352) 343-6823.
Now, first things first -is the city named after the R&B group or is it vice versa? "It Only Take A Minute" to figure this one out.
Anyway…got a real good "mom & pop" diner-joint for you…Mary's Kountry Kitchen in Tavares.
Without even telling you, you know what Mary's looks like–handful of tables/counter seating.
You can check menu/prices at www.ilovemarys.com.
The joint is open for Sunday-Wednesday 6am-2pm, Thursday-Saturday 6am-9pm.
When you check Mary's menu you're gonna find all kinds of breakfast stuff, salads, sandwiches, burgers, lunch/dinner plates.
Jeff Eats, Mrs. Jeff Eats and another couple recently did lunch…double cheeseburger ($7.49 with french fries), corned beef reuben ($7.49 with chips), country fried steak ($8.99-sweet potato fries and macaroni salad), BLT ($5.49 with chips) and not-one single complaint…as a matter of fact, that flat-top grilled double cheeseburger with lettuce/tomato/mayo/onion/pickle was really-really good.
Jeff Eats & Company really enjoyed Mary's Kountry Kitchen…the neighborhood diner "concept" at its best.
One final thought…
You guys ever hear this one?
At the end of a meal in a Boca Raton restaurant-the waiter walks up to four women and says…"Was anything okay?"