PizzAmore (Mount Dora)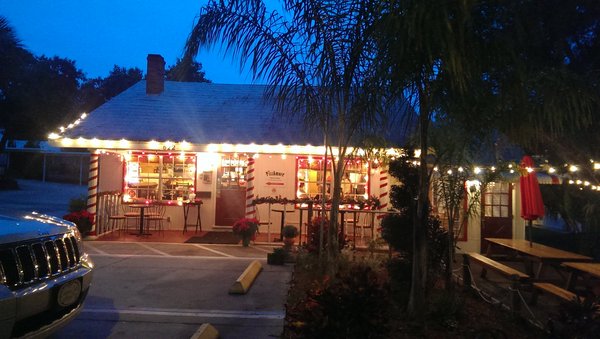 ***** PizzAmore, 622 North Donnelly Street, Mount Dora, Florida 32757, (352) 383-0092.
Got something real-good for you guys…PizzAmore-a red sauce Italian joint in Mount Dora.
Let me start by saying, that Jeff Eats loved PizzAmore–which is housed in a free standing house, with indoor/outdoor seating.
When you check PizzAmore's website -www.youlovepizza.com in addition to menu/prices, you'll find pictures/video which will give you some idea as to what this joint-looks like. Jeff Eats' "love" was based on dynamite food/reasonable prices/terrific service–and a real cool "vibe" that this casual-red sauce Italian joint threw off. Sorry, can't "define" cool vibe for you-as it's purely subjective in nature–but I gotta tell you, Jeff Eats really-really enjoyed eating in PizzAmore.
Just so we are straight with each other, PizzAmore's menu isn't all that-huge…BUT there are definitely enough appetizers, salads, pizzas, calzones/stromboli, subs, pastas and entrees–so everybody in your "party" is gonna find what to eat. The bet here, is that you'll have a doggy bag to munch out of–during your drive back to Plantation (you can, if you like, fill in -where in South Florida you actually live).
Now-the food…
Jeff Eats' recent outing with Mrs. Jeff Eats and another couple–had us doing, Caesar salad, large plain pizza, meatball sub, calzone (ricotta/mozzarella/feta cheese/spinach), stromboli (pepperoni/sausage/mozzarella) and every-thing was right on the money. I know that some of you guys like particulars-so, the pizza was thin crust/sweet sauce/crispy and was delicious…the stromboli, one of the best that Jeff Eats has eaten down here in Florida…the calzone and sub were real-good but not in the league of the pizza or the stromboli…Mrs. Jeff Eats and her friend Susan loved the Caesar–while Jeff Eats and Susan's husband Len passed on the rabbit-food in favor of the "real" stuff that was ordered.
Trust Jeff Eats on this one…
PizzAmore is a a must try. The food is solid, the prices are right (but not dirt cheap!), the service is as pleasant as can be and the "atmosphere" is perfect.
PizzAmore is open Sunday-Thursday 11:30am-9pm, Friday-Saturday 11:30am-10pm.