Twistee Treat (Orlando (2), Davenport, Kissimmee (2), Tampa, Spring Hill, Tarpon Springs)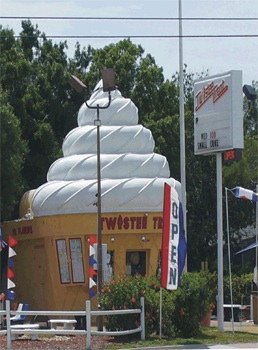 ***** Twistee Treat, 11933 East Colonial Drive, Orlando, Florida 32826, (407) 309-3878.
Twistee Treat…fast food/soft serve ice cream. Small Florida chain -8 "cone" locations-I'll explain later!
Recently "tried" the Twistee Treat joint–located two minutes from UCF in Orlando.
Do you know what a pig in sh@t is? Well, Jeff Eats was one–while devouring the vanilla/chocolate/strawberry soft serve–and the amazing chocolate, cherry and butterscotch dips that covered the ice cream.
No ifs or buts…Twistee Treat's stuff is major-league…and is as good if not better, than guys like Carvel and Dairy Queen. Look! This soft serve "review" business is real subjective–so let's just say that, if you like/love soft serve ice cream–this joint is a homerun.
While I'm on the subject of "subjective" reviews–comparing Carvel-Dairy Queen-Twistee Treat is like comparing–three colorless diamonds-with one being 0, another being 0.5 and the third 1.0. First of all, Jeff Eats has absolutely no idea as to what he's talking about diamond-wise—but you do get the point!-the differences are infinitesimal and Carvel/Dairy Queen/Twistee Treat all-get the job done. One final thing–in 1958 Jeff Eats lost P.S. 179's "Spelling Bee" to Melody Cohen when he failed to correctly spell the word- I N F I N I T E S I M A L and she did.
Twistee Treat's "gimmick"–its free standing stores are "shapped" like- ice cream cones/topped with soft serve. Order at window/outdoor table seating.
You can check complete menu/prices/locations/photos at…Twistee Treat's website www.twisteetreat.com.
Twistee Treat is open Sunday-Thursady 11:30am-midnight, Fruday-Saturday 11:30am-1am.
Printed below is "History" taken from Twistee's site.
"What's the attraction? It's what's in the Cone!
The Twistee Treat cone shaped building and ice cream have been around since 1983. The 20' high and 20' wide fiberglass cone buildings have housed America's favorite Twistee Treat ice cream. Twistee Treat's long history of serving up the best ice cream experience is legendary! The Twistee Treat cone buildings will soon dot America's landscape again, reminding us of how great ice cream can be. Twistee Treat ice cream makes you smile. Our philosophy is old fashioned – turn every guest into a fan. Over the years there have been millions!
Twistee Treat ice cream is real homemade ice cream. Its rich smooth flavors take you back to a simpler time. The menu indulges in ice cream, cones, cups and shakes. The banana splits are the best in the land. Twistee Treat also offers Malts, Shakes, Sundaes, and Slushes!
To learn more about us and get updates, like us on Facebook!"