Sweet Dogs (Miami)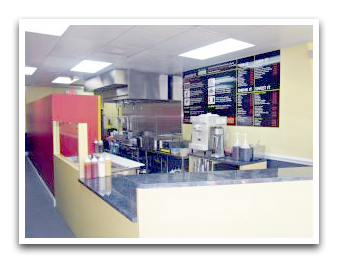 ***** Sweet Dogs, 4749 Southwest 8th Street, Miami, Florida 33134, (305) 448 448-4900.
Sweet Dogs-real easy concept—fast food/grilled Nathan's hot dogs-topped literally with what ever you'd like/French fries/soft ice cream-shakes.
Look!
Jeff Eats was born in Brooklyn in 1949. Now-no fooling around here, over the years I've probably been to Nathan's in Coney Island something like 500 times. Helping me to achieve that number-(If you promise not to report me because- the last thing that Jeff Eats needs is for this to be on his permanent record)—I, Marc Nadel, Andy Gold and Mike Rappaport use to cut school (J.H.S 62 & Erasmus Hall High School) on a pretty regular basis- eating at Nathan's and riding the rides at Steeplechase Park (we especially loved that horse race ride)…just so you know, we weren't really fans of Deno's Wonder Wheel, the Cyclone or the Parachute Jump.
Anyway…
The other afternoon- I gave Sweet Dogs a shot. Like I said a few seconds ago, grilled Nathan's hot dogs in a nice warm/soft bun-you pick the toppings. The owner's "gimmick" various dogs–named after Florida's professional/college sports teams… like- Heat, Panther, Marlin, Dolphin– You can check menu/prices at www.sweetdogs.net.
Now…
I don't know about you guys, but the way I was "taught" to eat my dogs—100% beef, never boiled/only grilled-or charbroiled, warm soft bun, topped with mustard/warm sauerkraut–one thing for sure NEVER EVER EVER EVER use Ketchup. Some of you former New York-guys may also be into- the "standard" toppings–raw onions, caramelized onions, relish. Now that I'm thinking about it, you guys from Detroit, Chicago and "elsewhere" USA may have your own thoughts on how to dress a dog…so Jeff Eats (knowing I won't be able to convince you) is going to move on-to other things-rather than telling you why, you don't know how to "dress" a dog.
Finally…
Jeff Eats loved Sweet Dogs.
No matter how you do your dogs…Sweet Dogs can do it! You want boiled, you want grilled, you want fried—loads of toppings…this joint has you covered.
Keep a secret? "The Mac" mac & cheese/parmesan cheese/garlic croutons–was outrageously delicious, as was "Mr. Chill" beef chili/chopped onions/cheddar cheese…but that' just between you and me.
Sweet Dogs is open…7 days a week 11am-10pm.