* No Way! Karl Koppertop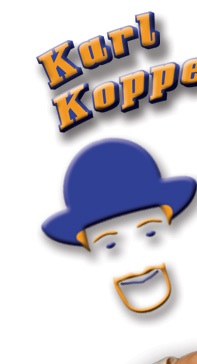 * No Way! Karl Koppertop.
Read on AOL.com that America's got a clown shortage…think- tv reality shows, your HOA Board, the US Congress, your next door neighbor, your cable company, your brother-in-law Joe, …now, do you really think there's a clown shortage? I don't! Anyway, the "story" is printed below for your perusal.
While Jeff Eats is "on" the subject of-clowning…I gotta tell you about Karl Koppertop– who has to be one of the best up-close magicians/balloon artists/jugglers/clown comedians that Jeff Eats has ever seen. Recently caught the guy in action-working table to table-amazing well over 250 people. Jeff Eats -loved the act. By the way, Karl does a "thing" where he turns one dollar bills into 100 dollar bills, that I definitely gotta learn to do at home! Simply amazing!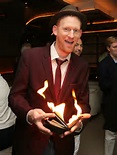 Check Karl Koppertop out at www.karlkoppertop.com-he works casinos, resorts, festivals, events all over South Florida.
*****
"It might make you laugh, but this story is no joke. "Fox & Friends" reports the U.S. is suffering from … a clown shortage.
'Over the past 10 years there has been a drastic decrease in membership at the country's biggest clown organization,' "Fox & Friends" explains.
Say it ain't so! According to the World Clown Association, the country's largest organization of its kind, membership has fallen from 3,500 to 2,500 clowns in the past decade.
KCTV says the reason is rather sad: they're actually dying off.
'As older clowns die, there aren't enough younger clowns enrolling into clown school to take their place. But it looks like so much fun,' KCTV reports.
The association president told New York Daily News, 'What happens is they go on to high school and college and clowning isn't cool anymore. Clowning is then put on the back burner until their late 40s and early 50s.'
So, bad news for those of you planning a birthday party."