A Little Bit Of Philly (Virginia Gardens)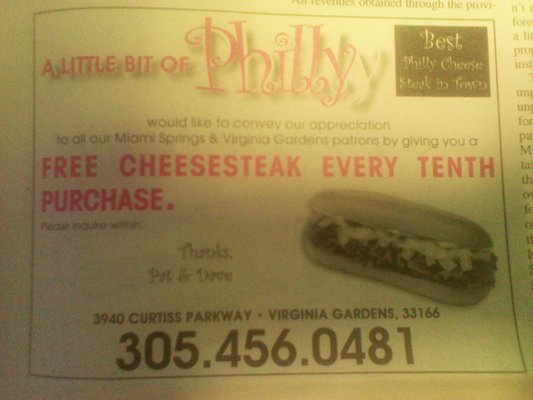 ***** A little Bit Of Philly, 3940 Curtiss Parkway, Virginia Gardens, Florida 33166, (305) 456-0481.
Real simple concept here…order at/pickup at counter joint, that makes pizza, calzones, stromboli, hot/cold subs.
Just so you know, Jeff Eats was turned onto -A Little Bit Of Philly by my pals at food blog Burger Beast www.burgerbeast.com who did a story on August 20, 2013.
You know and I know that pizza/sub joints are like Chins in a Chinese phonebook…literally, one in every South Florida strip center…not sure if the Chins/Chinese phonebook/strip center "theme" is working here–but you guys know what I mean.
Anyway…
The other day Jeff Eats gave -A Little Bit Of Philly a shot-and I gotta tell you that the plain pizza, sicilian pizza, philly cheese steak sub, meatball sub that I "sampled" were off the chart. No fooling around, everything-was amazingly delicious.
Let me wrap this up for you…this joint is an absolute grand-slam must try–that's assuming, that you enjoy great subs and pizza…and other than my friend Hank (a story for another day)-who doesn't?
A Little Bit Of Philly is open Monday-Saturday 11am-9pm, Sunday 11am-8pm.