Barone's La Pizzeria (Margate)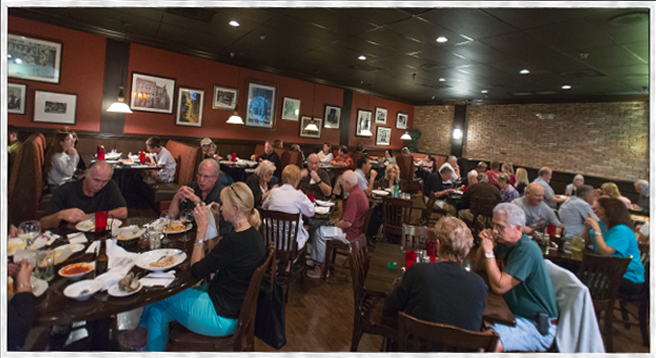 ***** Barone's La Pizzeria, 5632 West Sample Road, Margate, Florida 33073 (954) 968-4396.
Call it crazy, but at least once a week -Jeff Eats gets asked among other things-to name his favorite south Florida Italian/pizza joints…very flattering -to think that so many of you guys actually believe that I know what I am talking about…
Anyway…
Way back on June 28, 2010- Jeff Eats "reviewed" Barone's La Pizzeria…and I gotta tell you, that over the ensuing years, Barone's has become one of Jeff Eats' "go to joints." Personally, I would match Barone's food/prices/service up-against the best "mom & pop" red sauce players in South Florida.
So…you now know where Jeff Eats goes when he is craving -outstanding New York Style pizza, amazing garlic knots, fabulous minestrone soup, delicious veal marsala—so forth and so on.
One final thought…Barone's has been around for something like 40 years…that should tell you something!
The original (6/28/10) review is reprinted below.
—-
***** Barone's La Pizzeria, 5632 West Sample Road, Margate, Florida 33073 (954) 968-4396.
Barone's La Pizzeria is a "Mom & Pop—red sauce" pizza joint located in Margate.
You can check its menu/prices at www.lapizzeriamargate.com.
You know and I know that "Mom & Pop" pizza joints are a dime a dozen-down here in old South Florida. I think the way it works…the strip center landlord first signs Publix, then Walgreens, then a Chinese takeout, then a pizza joint, then a dry cleaners…then a —-(you fill in the blanks)….then half of the businesses go bust…
Anyway, the other evening, I gave Barone's La Pizzeria a shot- and I gotta tell you, the food is real-good. My party did pizza, shrimp scampi, veal parmigiana, meat lasagna, chicken & shrimp alfredo, penne ala vodka—and like I just said, real good.
As you know– over the past few years, old Jeff Eats has eaten-in his fair share of "mom & pop" Italian joints…and, to be perfectly honest with you, most of them barely get the job done, but then again, that's the nature of the beast…"cheap is cheap"…."you get what you pay for"…"one if by land, 2 if by sea." Trust me on this one, Barone's La Pizzeria is REAL GOOD…if you live or work near the joint, I highly recommend that you give it a try.
By the way, Barone's La Pizzeria is right across Sample Road from the Seminole Casino Coconut Creek and is maybe a 3-minute drive (west) from the Festival Flea Market on Sample Road.
Barone's La Pizzeria is open Sunday-Thursday 11am-10pm and Friday-Saturday 11am-11pm