Big Apple Pizza & Pasta (Jupiter, Port Saint Lucie (3), Palm City, Stuart, Hobe Sound, Vero Beach (2), Fort Pierce)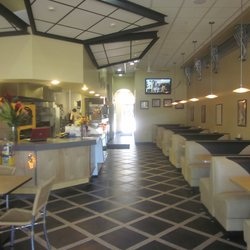 ***** Big Apple Pizza & Pasta, 240 West Indiantown Road, Jupiter, Florida 33458, (561) 746-2212.
Got a terrific "red sauce" Italian joint for you…Big Apple Pizza & Pasta.
Just so you know, Big Apple has 10-Florida locations–this write-up is about the one in Jupiter.
Before we get going here, you can check www.bigapplepizza.com for menu/prices/locations/coupons.
Without naming names, you know and I know that Florida is loaded with "red sauce" Italian joints…we know there are "mom & pop" joints–also thrown into the mix, are a number of small "red sauce" chains…and to be perfectly honest with you, Jeff Eats (present company excluded) can't name even-one small-chain that is anything more-than mediocre.
Now…assuming that the other 9 Big Apple Pizza & Pasta joints are playing on the same level as the Jupiter outpost—I gotta tell you, that I would match Big Apple's stuff up against Florida's best red sauce joints.
Jeff Eats absolutely loved Big Apple Pizza & Pasta.
A week or so ago I did "dinner" at Big Apple and it served-up a thin crust pan pizza that was absolutely-positively off the chart…one of the most delicious pizzas I've had down here in Florida. I also "tried" the joint's antipasto salad, garlic knots meat lasagna, veal parmigiana, sausage & peppers sub–and I'm telling you everything was right on the money.
Like I said 24 seconds ago, this story is only about-the Jupiter location. IF–the other 9-locations are as strong, Big Apple Pizza & Pasta should be the master "blue-print"–on how to own/operate a small "red sauce" Italian chain.
Big Apple Pizza & Pasta is open Monday-Sunday 11am-10pm.