Yakko-San Restaurant (North Miami Beach)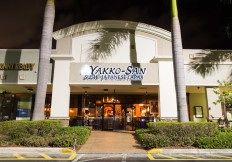 ***** Yakko-San Restaurant, 3881 Northeast 163rd Street, North Miami Beach, Florida 33160, (305) 947-0064.
Jeff Eats knows, that a ton of you guys love top-shelf Japanese food…so I went out and found Yakko-San in North Miami Beach for you. I also know that a load of you guys aren't (just yet!) in the geriatric category—so you'll- really enjoy that Yakko-San has separate bar-sushi bar-restaurant areas and is open Monday-Sunday- noon-3am. At this stage of the story, you can check www.yakko-san.com for menu/prices/loads of photos. By the way, for you younger folks out there–just so you know, Jeff Eats' older "crowd" is also usually up at 1am, 2am, 3am…just not out at joints like Yakko-San. If you aren't following me here–ask your older friends where I was/am going with this.
The joint is great looking with a semi-upscale vibe. Its got a menu packed with all kinds of soups, appetizers, sushi, sashimi, nigiri, tempura, grilled meats/fish, noodles—that your little hearts desire.
Personally, I know that Jeff Eats is well qualified to "judge" Yakko-San's food in that I have seen-"What's Up Tiger Lily?" (1966- saw it twice) and "The Bridge on the River Kiwi" (1957- saw this sucker at least 7 times)—so, I gotta tell you, Yakko-San served up some pretty impressive stuff. A recent dinner (6 people) had us doing…shrimp tempura roll, king crab roll, sashimi (2-tuna, 2-salmon, 2-hamachi), cucumber wrap, grilled Chilean sea bass, ginger chicken, shrimp tempura, beef fried rice, fried cheesecake roll—and not one thing came even close to missing. While we're on the topic of food critic credentials, Jeff Eats was/is a huge fan of "Hogan's Heroes" so-figure on seeing a German joint write-up and a discussion of Bob Crane's death sometime in the near future.
Takko-San is a really good Japanese restaurant.
Definitely one of the best that Jeff Eats has been to- down here in South Florida.