* All That Jazz Cafe & Grill (Sunrise)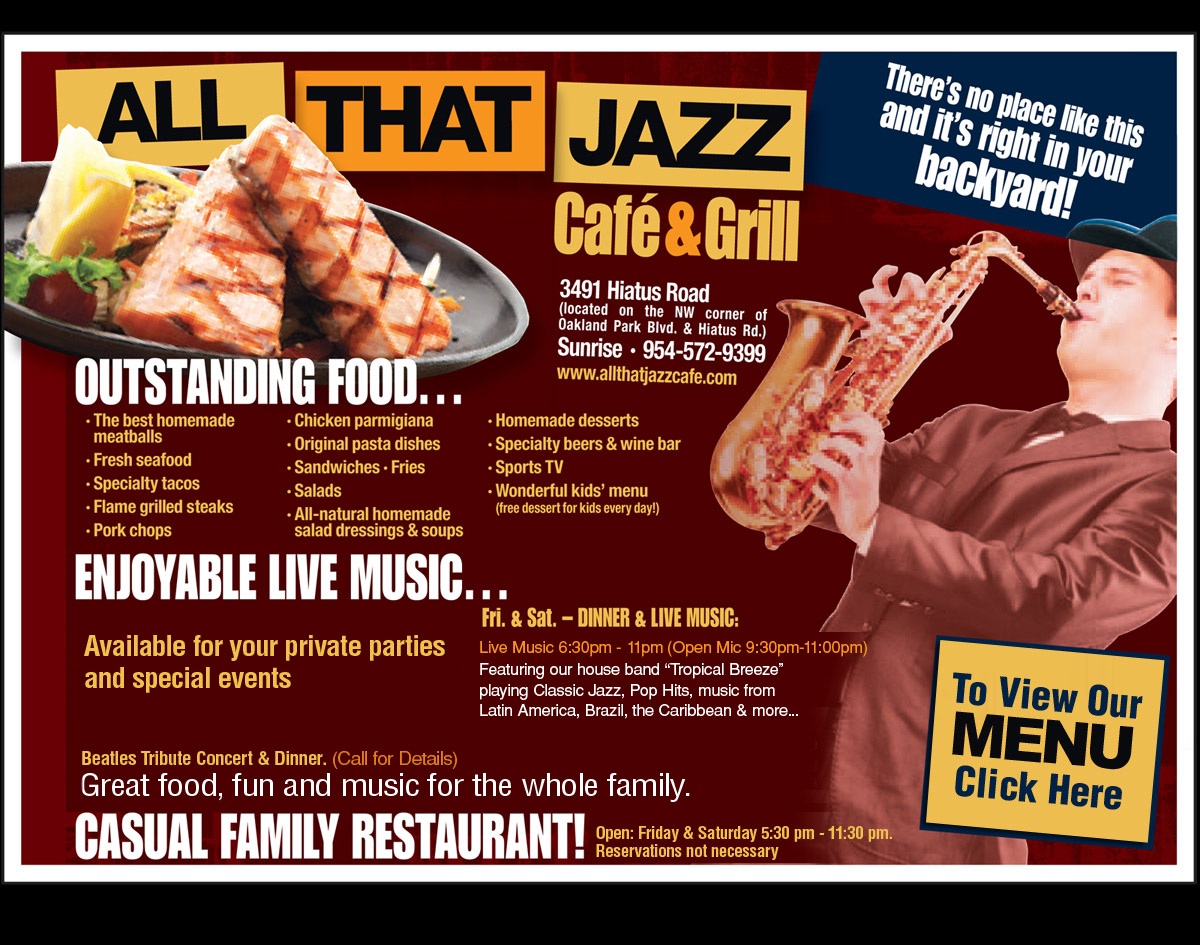 * All That Jazz Café & Grill, 3491 Hiatus Road, Sunrise, Florida 33351, (954) 572-9399.
Got something for you guys that may-be really cool and terrific…but then again, it may-be just the opposite (not really cool and not so terrific).
Hear Jeff Eats out…
The other day -I was talking to Greg Steiner -the bass player of Across The Universe (one of South Florida's premier Beatles' tribute bands) about the group's plans for "celebrating" The Beatles'50th Anniversary (American debut- February 1964). Greg told me that on Sunday, February 16th-Across The Universe is scheduled to perform 2-dinner shows (4:15pm & 7pm) at All That Jazz Café & Grill in Sunrise. Greg also told me-that during the day, All That Jazz is a music academy and on Friday & Saturday 5:30pm-11:30pm and Sunday 10:30am-2:30pm–the joint transforms itself into a 100 seat restaurant (beer/wine) with live music performed by the academy's students and various guest artists.
Now stay with me…
Jeff Eats checked out- All That Jazz Café & Grill's menu and it definitely had the right mix of Italian, Mexican, American appetizers/salads/ sandwiches/entrees–to warrant further investigation.
Just so we are straight…Jeff Eats has never been to or eaten in All That Jazz. I will tell you that Greg swears that the joint's garlic bread and meatballs are off-the chart—now, keep in mind, this "review" comes from some guy who plays Paul McCartney for a living and not from some hot shot Brooklyn born entertainment attorney—so buyer be-ware!!
Anyway…
Jeff Eats "gut" says that All That Jazz Café & Grill is definitely worth a shot down the road.
Finally…
Based on how good–Across The Universe is (Jeff Eats has seen the group a number of times) …the bet here is- that the February 16th- $28 dinner/show will be an absolutely fabulous event…with a good time being had by all!
You can check-out All That Jazz Café & Grill's menu/prices/Beatles Dinner-Show at- www.allthatjazzcafe.com.
You can check-out Across The Universe at www.acrosstheuniverseband.com.