China Casa (Hialeah)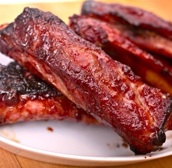 ***** China Casa, 3300 West 84th Street, Hialeah, Florida 33018, (305) 698-3881.
Got a real good Chinese "take-out" joint for you…China Casa in Hialeah.
You know and I know that Chinese take-out joints are a dime a dozen down here in South Florida…you also know that give or take a handful, most Chinese take-outs are OK, but that's about it…you also know that the next morning's microwaved leftovers always taste great. Now that we are done with Jeff Eats' South Florida Chinese tutorial–let me tell you about China Casa.
The other day I and Mrs. Jeff Eats were looking "for" some marble for a renovated kitchen that "she" is envisioning…you do know that Hialeah is like the "marble capital" of the world? sure you do!–any way-one of the store-owners hearing that I was Jeff Eats, told me that we had to try China Casa…blah blah blah. Before I tell you about the food… I was just hit with a flashback—when I was a kid, my father would always say to me…"Who's she? You mean, your mother!"–when I would refer to my mother as- she…
Anyway…
Let me tell you, this little joint makes some absolutely dynamite wonton soup, bbq ribs, roast pork fried rice, sesame chicken, pepper steak with onions. To be perfectly honest with you, and I've eaten a ton of Chinese take-out food in my day, China Casa's is right up there with some of the best outings that I've had here in South Florida.
So, if you live or work or are looking for marble in China Casa's neighborhood- you now know where to get some really good Chinese stuff…
China Casa is open Monday-Thursday 11am-9:30pm, Friday-Saturday 11am-10pm, Sunday noon-9pm.