* Terry Johnson's Flamingos (Kings Point-Delray Beach)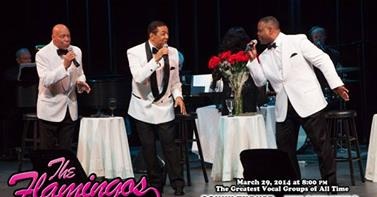 * Terry Johnsons' Flamingos.
If you are a 50s-60s Oldies-fan…Jeff Eats got something really terrific for you…
On Saturday Night-February 1, 2014–Terry Johnson's Flamingos will be in concert at the Kings Point Theater in Delray Beach. The Flamingos' appearance is part of the "Voices Of Legends Concert Series" that Kings Point has on its entertainment calendar. The beautiful thing about Kings Point is that residents pay $15 for tickets and outsiders only pay $18…no Ticketmaster charges or other such shenanigans.
The Flamingos' show will also feature appearances by Mike Miller and Johnny T.–both are former members of The Mystics of "Hushabye" fame…Johnny T. is also rated by Billboard Magazine as one of America's TOP 10–tribute artists.
To help refresh your recollections…The Flamingos had such hits as—"Lovers Never Say Goodbye"-"I Only Have Eyes For You"-"Mio Amore"…
Trust Jeff Eats on this one…I recently saw Terry Johnson's Flamingos and they put on a dynamite show…I've also seen Mike Miller and Johnny T. and they are terrific entertainers.
As a point of reference, a couple weeks ago–Jeff Eats and Mrs. Jeff Eats attended a "Voices" concert that starred The Dubs, Johnny T, Mike Miller and Michael D'Amore and I gotta tell you, we had an absolute blast. The Kings Point Theater probably seats something like 1,000–with every seat being just fine…the theater has real good sound/lighting systems. The way this one "worked"–in addition to performing the hits of folks like Sinatra, Martin, Anka–Johnny T. served as the master of ceremonies and really got the audience engaged in the various performances. At The Dubs' show, the entire audience "participated" in a closing "Shout" number performed by The Dubs, Miller, Johnny T., Michael D'Amore and special guests- William Cintron of The N.Y.S.E. Guys and Ken Brady-the lead singer of The Casinos who had the 1967 mega-hit "Then You Can Tell Me Goodbye." I'm telling you–the Theater was rocking n rolling just like you see on those T.J. Lubinsky Public TV Oldie- Shows.
Just so you know, I just checked www.kingspointdelray.com and there are only a handful of seats left for this show. So! If "this" is of interest to you, you gotta move fast.