Leo's Diner (Orlando)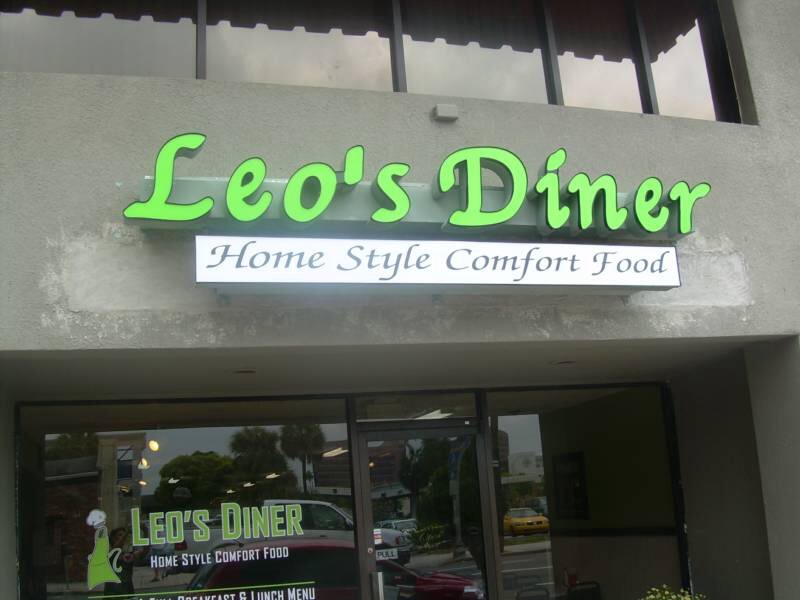 ***** Leo's Diner, 333 North Orange Avenue, Orlando, Florida 32801, (407) 423-5367.
Now, let me ask you something…
Do you seriously think that Jeff Eats would pass on trying a "mom & pop" diner–named Leo's Diner on a recent Orlando sojourn? If you answered yes, YOU ARE WRONG!
Let me start by saying, that although Leo's has only been around since April 10, 2010…8 counter seats/16 tables/black & white checkerboard tile floor décor–gives off a nice 1950s-1960s vibe.
Leo's Diner is open Monday-Friday 7am-3pm, Sunday 8am-1pm, closed on Saturday. Now, nothing for nothing- closed on Saturday? Maybe a Sunday, maybe a Monday, but Saturday! AH! The mysteries of the restaurant business!
Anyway…
You can check menu/prices at www.leosdiner.net.
Jeff Eats recently did lunch at Leo's–and as you would expect, its menu is packed with breakfast stuff, burgers, salads, soups, sandwiches/subs, desserts.
"Items tested"– meatball parmesan sub ($7.95 came with French fries)…chicken salad on a Kaiser roll ($7.95 came with baked potato)…1/2-lb bacon cheeseburger ($7.95 came with French fries)…5 cheese grilled cheese sandwich ($6.95 American, cheddar, provolone, Swiss, parmesan–came with French fries). No fooling here, everything Jeff Eats had was delicious–with the grilled cheese sandwich and meatball sub getting special shout-outs.
So there is no confusion, Leo's does breakfast Monday-Friday from 7am-11am and Sunday 8am-1pm…and no breakfast or for that matter lunch on Saturday.
Let me wrap this up for you,
Jeff Eats has eaten his fair share of diner-lunches–and I gotta rate Leo's food right up with the best of breed.
This joint is a big time winner!