Junior's Diner (Orlando)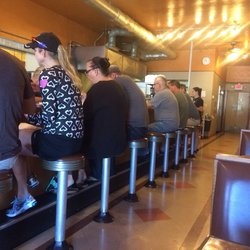 ***** Junior's Diner, 2920 Corrine Drive, Orlando, Florida 32803, (407) 894-8871.
Junior's Diner is a "neighborhood" diner…long/narrow setup—maybe 10 counter seats, maybe ten booths. Its been around since 1997.
Junior's Diner does breakfast/lunch…Tuesday-Saturday 6:30am-2pm, Sunday 7:30am-2pm, closed on Monday.
Jeff Eats loves the Junior's Diners of this world…call me a wild and crazy guy (I know- Steve Martin) but I love mom & pop joints- like this one. No matter what you say, I'd rather eat in a- Junior's Diner than an IHOP, Denny's, First Watch, Perkins, "You Name The Chain."
Now, unless you're a recent transplant from Venus, you know exactly what this- Junior's Diner is all about. Decent enough food, reasonable prices and pleasant-sassy- charming waitresses. You also know, that Junior's "grill man" ain't winning no prize money on that cooking-show Chopped.
Junior's menu is loaded with breakfast stuff, sandwiches, salads, burgers, and entrees.
A recent outing had Jeff Eats doing…western omelet ($7.09), French toast with sausage ($5.59), biscuits with sausage gravy (2-biscuits, $3.69)…and I gotta tell you, that everything was diner-good. Are we talking "curing cancer" good, come-on, don't be silly…
Let me wrap this up for you…
Unless you are a real-strange dude or dudette–you "got" your own–Junior's Diner. For sure, yours maybe called Leo's, or Tommy's, or Jimbo's, or Nick's…but you got one! You know, the joint- where you go for breakfast and the coffee is-coffee and not some pumpkin spice latte concoction.
Finally, just in case we go on the "Newly Wed Game"–Jeff Eats' all-time favorite Junior's Diner was "The Federal" which was located on Cortelyou Road in Brooklyn…I can't begin to tell you how many times my Father, Mother, Brother and I were in that joint from 1949-1957-but it was -a lot…and if memory serves me right, The Federal had an almost identical layout as Junior's Diner has…the one big difference, Junior's is into mahagony colors while The Federal had a red & white decor.
Posted September 25, 2011
***** Junior's Diner, 2920 Corrine Drive, Orlando, Florida 32803, (407) 894-8871.
Junior's Diner…"mom & pop"–cash only–booth/counter seating diner in Orlando.
I love neighborhood-diner joints, like Juniors. Nothing fancy, just good solid breakfasts, burgers, fries, sandwiches—what makes these joints special is–that they have personality. Unlike chains like IHOP and Perkin's, the Junior's of the world have a down-home style and personal touch that only local-owners can generate.
Now, we all know that Orlando is a tourist "mecca"—I seriously doubt, that there are any national restaurant chains without at least one Orlando outpost. If you want to eat where the "locals" eat…you gotta try Junior's Diner. The joint is open Monday-Saturday 6:30am-2pm and is closed on Sunday.