* Yard House, The Capital Grille, Darden Restaurants -Terrible Customer Service!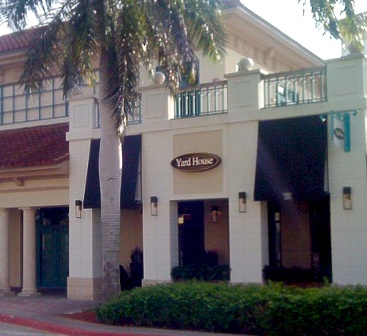 * Yard House, The Capital Grille, Darden Restaurants- Terrible Customer Service!
Here's a story for you guys…
As witnessed by Jeff Eats' write ups dated 1/28/08 and 1/14/11–I'd been a huge fan of the "sports bar" Yard House chain since 2008…suffice it to say, Jeff Eats is no longer a fan. Printed below is a copy of an e-mail which I sent on January 1, 2014 to the General Manager of Yard House's Boca Raton location in Mizner Park. To date, Jeff Eats has not received the courtesy of a reply from either the GM or from Yard House's corporate office.
*****
Subject: Poor Service/Food
Brandon:
As you may recall, last night I and five others were in Yard House around 10:15pm. The reason why you may remember is that you and I exchanged business cards when you came over to our table. Just in case you don't, Jeffrey Richman of Jeff Eats www.jeffeats.com.
Suffice it to say as the editor of one of South Florida's leading food blogs, I've literally been to and reviewed hundreds of restaurants. If you check Jeff Eats' site you will find a past- extremely favorable Yard House review. I just wanted to tell you, that last night's outing was lousy and that your actions as GM on the same level.
The facts are real simple.
We arrived around 10:15pm to a half empty restaurant. We were seated and waited quite awhile for a waiter to appear. He took the beverage order which was real simple- hot tea, two hot coffees, three iced coffees. Once again extremely slow in filling the order, which when delivered found the three iced coffees with no ice and watered down and the two hot coffees barely warm, the tea was okay. The waiter left the table failing to supply straws for the beverages or spoons. When he returned to take the food order, he was told that the hot coffees were unacceptable and after requesting same he supplied straws and spoons. The food order was taken which was basically six cake items topped with ice cream. Sometime thereafter the waiter returned with hot coffees. Before the desserts were delivered, you stopped by the table and saw what was going on. Now unless the six of us are hard of hearing, you said that you would do something to compensate us for this really unacceptable outing. The desserts were delivered, a couple too sweet and one with ice cream that had already started to melt. Suffice it to say, we finished and I had to physically get up and search for the waiter to get a check. As you know, I never found him and I got you to run the check which totaled $60 with no discount or anything else. We left $75 in cash on the table and left the restaurant. I will tell you, that on the way to our cars, we discussed what a crappy operation Yard House was and what a piss poor choice we had made.
Now, I and my wife have eaten in Yard House many times and have always enjoyed the food and service. As for the two other couples this was their first visit to a Yard House and I'd bet they will never set foot in one again. They were amazed at how poorly it was run.
What I am really pissed off about is your behavior. I've been around along time and for you to have failed to "correct" this matter, is as if you played me.
If you would like to "correct" things, let me know and I'll arrange for the other couples to be engaged. I'll put my latest-planned Yard House review -as well as the email that I have written for Yard House's Home Office on hold until January 5, 2014.
Thanks,
Jeff Richman
561 *******
www.jeffeats.com
_______________
Here is an observation…
Way-back on 10/30/09 Jeff Eats did a review of The Capital Grille in Miami. If you check, you'll find that it was not a favorable story. To update that review, to date The Capital Grille neither on the local or corporate level ever took any action to "address" Jeff Eats' concerns about a terrible dining experience. To go even one step further, The Capital Grille never communicated with Jeff Eats after an initial promise to make contact.
For the record, The Capital Grille chain was/is owned by publicly traded Darden Restaurants (NYSE: DRI) who coincidentally also owns the Yard House chain having acquired it in July 2012. Just may-be there is a pattern here…that being, that Darden couldn't give a rat's ass about customer complaints. I will tell you, Jeff Eats has eaten a ton of meals and has done business with a ton of mom & pops and chains–and Darden's behavior 2x in not responding to a customer's complaint is very strange in an industry that literally lives or dies on being customer-friendly.
Now nothing for nothing, but Jeff Eats has been reading and hearing that 2 of Darden's other chains aren't doing too-well, namely Olive Garden and Red Lobster. Just maybe, Yard House and The Capital Grille's failure (as evidenced by Jeff Eats) to address customer issues are systemic to the entire Darden operation!
Suffice it to say, Jeff Eats won't be doing business with Darden Restaurants anymore. No reason to support a business who couldn't give a damn about me!