Villa Rose Pizza (Hollywood)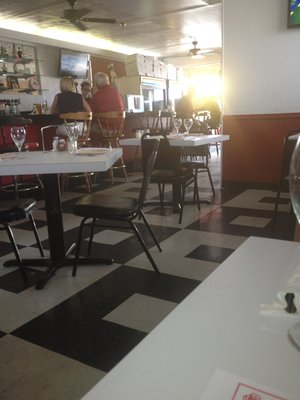 ***** Villa Rose Pizza, 1114 State Road 7, Hollywood, Florida 33021, (954) 983-7660.
Can't Explain it!
For years, Jeff Eats has been hearing some terrific things about Villa Rose Pizza (its been around since 1957) and the fabulous pizza that it makes—yet in all those years, I never got over there to try its pizza or food. Like I just said, can't explain this!
Anyway, last night Jeff Eats and Mrs. Jeff Eats were doing a "takeout" from Spadini's Pizzeria in Boca Raton and while waiting for our order, we-got to talking with a lovely couple with two young children…blah blah blah and business cards were exchanged. Later that evening, Jeff Eats received the "below" e-mail from Chris Florea who we had spoken with earlier that evening. As you'll read, he is a HUGE fan of Villa Rose Pizza.
Chris has now got Jeff Eats' juices pumping…and I plan to get down to Villa Rose sometime in the next 30-days.
If you have been to Villa Rose, drop me a note on the joint…if you haven't, Jeff Eats' "gut call" says Villa Rose is a must-try.
You can check www.villarosepizza.com for menu/prices/other stuff.
Villa Rose Pizza is open Sunday-Thursday 11:30am-10pm, Friday-Saturday 11:30am-11pm.
*****
Update, January 7, 2014…
Last night, Jeff Eats and Mrs. Jeff Eats "finally" made it down to Villa Rose Pizza and suffice it to say–the pizza was spectacular…thin crust, dynamite cheese with a sweet sauce. In addition to the pizza we also ordered Greek salad, -veal parmigiana sub, penne ala vodka–and I gotta tell you like the pizza, delicious–not "spectacular" delicious but neighborhood "mom & pop" red sauce-delicious.
For you Fancy Dans out there, Villa Rose is definitely not for you…this is the consummate "hole in the wall" with a handful of tables, small eat at bar-counter and a decor that has to date back to when the joint first opened in 1957…
Villa Rose Pizza is a homerun…can't believe I didn't get to it sooner!
*****
From: Chris Florea
Subject: Best Ultra Thin Crust Pizza
Message Body:
Hey Jeff , met you tonight at Spadinis pizza in Boca Raton. You were taking out
and I was with my girlfriend and kids. Have to tell you about Villa Rose and the
incredible little gem of a pizza joint it is. Its right up your alley, trust me
on this one. The place is located in Hollywood Florida on 441 ( SR7) just north
of Hollywood Blvd. They have been in the same hole in the wall location for over
50 years and I have been enjoying that pie for at least a third of that time
whenever I am down that way! I have gone there for one thing and one thing
only!! Their signature ultra thin crust pizza, which in my opinion is the best
around! I havent found anything close to the quality of that pie! Especially
for a conventional oven baked pizza. The pizzas come to the table round and cut
in squares. The pie has a tangy/sweet delicious sauce and topped with quality
mozzarella. I prefer cheese with green pepper, onion, and pepperoni ( never
never and never soggy or wilting). The pie is
just incredible, especially when partnered with an icy cold pepsi or coke. The
plain pie is also delicious. I am not able to fill you in on the rest of the
menu because the pizza is all I ever eat there. You HAVE to try this pie!!!
Every single person I sent packing down to Hollywood to try this out has raved
about it afterward. I hope you give a whirl and I look forward to reading your
posts about it!! Happy Eating, Chris