Abbe's Donut Nook Shop (North Port)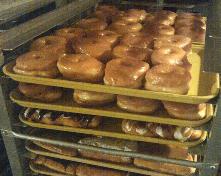 ***** Abbe's Donut Nook Shop, 13625 Tamiami Trail, North Port, Florida 34287, (941) 426-5758.
Got a story for you…
This morning (Friday) around 10:15-Jeff Eats' front door house bell rang–and standing there was an old "cop" friend and his wife…know these folks since 1971–from back in the day when I was a law clerk in the Kings County District Attorney's Office (for those who don't know, Kings County is also known as Brooklyn, New York). No fooling, unannounced they decided to visit Jeff Eats and Mrs. Jeff Eats "checking in" until Sunday. Bearing belated hanukka gifts and 2-dozen assorted donuts from Abbe's Donut Nook Shop, they were greeted with open arms. Just in case you are wondering how a retired New York City Detective ended-up in North Port, that's a story for another day, but try something like you do 20 in NYC and 20 in North Port and then pension-out (you retired NYC cops and firemen know what I'm yapping about).
Anyway…
As just mentioned, our "guests" brought us 24 (that's 2 dozen) assorted donuts from Abbe's Donut Nook Shop located in North Port…for the record (after-all this is a cop story) until this morning, Jeff Eats had never heard of Abbe's Donut Nook Shop…but what I can tell you, this joint makes some of the most amazingly delicious apple fritters, glazed, cake donuts that I have ever eaten. Since these were a "gift" it would have been so -declasse to ask how much they cost, but Jeff Eats did learn that Abbe's has been around for something like 35 years–is a "hole in the wall" with a handful of tables, only takes cash and opens daily at 5:00am.
You now know as much as Jeff Eats knows about Abbe's Donut Nook Shop in North Port, Florida.