Nuts About Candy (Pompano Beach)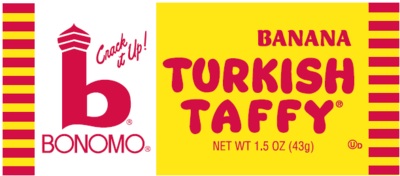 ***** Nuts About Candy, 2900 West Sample Road (Festival Flea Market), Pompano Beach, Florida 33073, (954) 984-8908.
Call me a wild and crazy guy (I know-Steve Martin), but this morning I woke-up craving some chocolate Bonomo Turkish Taffy. Sounds nuts but Jeff Eats ain't playing you here.
Anyway…
After a handful of telephone calls, Jeff Eats found a joint named- Nuts About Candy located in the Festival Flea Market that had chocolate, vanilla, strawberry, blue raspberry, wild cherry and banana bars in stock. For the historians out there, Bonomo Turkish Taffy has been around since 1912 and the original flavors were chocolate, vanilla, banana and strawberry–and if Jeff Eats forgets about the cost of 6-teeth implants, is one of the greatest candies ever created.
Anyway…
To make a long story short, this afternoon Jeff Eats and Mrs. Jeff Eats took a ride and found Nuts About Candy (Booths #3327 & 3331) at the intersection of Carnival & Bourbon Street…and I gotta tell you that this flea-market "store" in addition to Bonomo Turkish Taffy had a great selection of reasonably priced nuts/chocolates/candy/nostalgia candy. Now for the craziest part of the story (well at least to Jeff Eats it is)-is that although Nuts About Candy has been in the Festival Flea Market for something like 26 years, Jeff Eats (who has shopped at the Festival for years) had not even once-consciously noticed it…maybe subconsciously, but definitely not consciously. You gotta admit, that's pretty crazy!
Let me wrap Nuts About Candy up (pun intended) for you…I hate this store-because by 3:30 this afternoon, Jeff Eats' New Year's resolution to lose 25 pounds ended as I downed huge chunks of chocolate Bonomo Turkish Taffy-at least 12 inches of button candy and something like 11 Mary Janes. Oh well, 2015 is fast approaching!
Nuts About Candy is a no-frills operation. Guess that's how it's able to sell its stuff at prices something like 1/2 of what competitors in the area are getting. By the way, the joint is owned by a real pleasant mother & daughter team Marilyn and Wendy–and in addition to selling packaged candy/nuts, candy/nuts by the lb.-also makes/ships some really cool candy/nuts trays and baskets.
Nuts About Candy's website www.floridanutsaboutcandy.com is currently down-getting a facelift…but should be up real soon so you can check-out all of its stuff/prices.
The joint is open Monday-Friday 9:30am-5pm, Saturday and Sunday 9:30am-6pm.