Bella Nonna Gourmet Pizza (Boca Raton)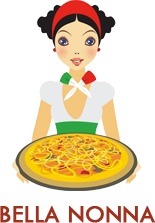 ***** Bella Nonna Gourmet Pizza, 7400 North Federal Highway, Boca Raton, Florida 33487, (561) 989-8870.
This evening Jeff Eats "found" an absolutely terrific "hole in the wall"-Italian red sauce -mom and pop-joint…Bella Nonna Gourmet Pizza in Boca Raton.
Let me make this story short and sweet…the pizza, veal parmigiana, chicken parmigiana, chicken fra diavolo, penne marinara, Caesar salad, house salad, garlic rolls, cheezy garlic bread that I "took-out" was some of the best stuff I've eaten in South Florida. Every item was delicious and trust me on this, I ain't playing you here.
Bella Nonna has been around for something like 1-year and until late this afternoon Jeff Eats had never heard of it. If the truth-be told, I read about Bella Nonna on Yelp and TripAdvisor and the reviews were so "good" that I decided to check the joint out for myself. Just so you know, Bella Nonna has maybe 25 seats inside and 8 outside. It would be fair to say, that Bella Nonna has virtually no decor, unless you consider a handful of wooden-tables and wooden chairs-decor. No tablecloths, no settings, no nothing. To be honest with you, the dining room reminded me of an old-bus station circa 1940. God only knows how many potential customers "passed on" eating there after-seeing the physical layout. Normally, Jeff Eats doesn't harp on decor-issues, but I don't want you guys being chased-away because you found the joint "sketchy." Dumpy or not dumpy, Bella Nonna's food is amazingly delicious, the portions are enormous and the prices just right.
Just so you know from where I'm coming…when Jeff Eats arrived at Bella Nonna (7:30pm)-there wasn't a single person in the joint and this was a Saturday night, in Season-Christmas Week. During the 30 minutes or so that I waited for my order, there was 1 party of 5 that "sat down" to eat and 4 counter orders to-go.
To Bella Nonna's owners– spend a few bucks on some red & white checked tablecloths, set the tables and put some real colorful Italian food posters on the wall-and based on your food- you'll be good to go. Do what you'd like with Jeff Eats's "suggestions"–what I do know, is that you make tremendous stuff that deserves to be enjoyed by more than just a takeout crowd.
You can check www.bellanonnapizzeria.com for menu/prices.
Bella Nonna Gourmet Pizza is open Monday-Saturday 11am-10pm, Sunday 4pm-9pm.