The Salad Spot (Boca Raton)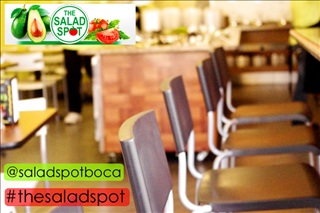 ***** The Salad Spot, 690 Yamato Road, Boca Raton, Florida 33431, (561) 997-0039.
Right off the bat, let me start by saying that it wasn't Jeff Eats' idea to try The Salad Spot in Boca Raton. To be more precise, it was Mrs. Jeff Eats and Daughter Jeff Eats' idea. Now with "that" out of the way…last week the three of us caught lunch at The Salad Spot. To sum the joint up, a huge help yourself salad bar that features-I'm guessing at least 70 different items that you "build" your own salad from -at $7.49 lb…throw in a handful of soups, wraps and prepared salads and you got the picture. Fast-food type seating inside and outside.
Now nothing for nothing, but you guys do know that Jeff Eats' food of choice- is Carnival Food…burgers, French fries, pizza, onion rings, bbq ribs, sausage & onions sub, carmel corn, cotton candy, candied apples, fried anything!
Now back to The Salad Spot…
Jeff Eats thought that The Salad Spot had a terrific selection of "rabbit" stuff…that the joint was spotless…and that the Italian meatball soup/grilled chicken salad-green peppers-red onions- honey wheat wrap were quite tasty.
The verdict…As Mikey's brother once said, "Mikey likes it!"
So…to all you vegans (I do- believe that's what some of you vegetarians are calling yourselves these days),"healthy" eaters and gluten free guys, don't say that Jeff Eats' never did anything for you!
Jeff Eats can't quite let this one go just yet…you vegans, "healthy" eaters and gluten free guys really have no idea as what you are missing–not devouring a fried Twinkie topped with chocolate ice cream, a mound of whipped cream and bacon bits.
You can check www.thesaladspotboca.com for menu/other stuff.
The Salad Spot is open Monday-Thursday 10am-5pm, Friday 10am-3:30pm, closed Saturday and Sunday.