Cabo Flats (Delray Beach, Palm Beach Gardens)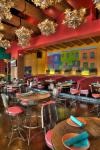 ***** Cabo Flats, 14851 Lyons Road (Delray Marketplace), Delray Beach, Florida 33446, (561) 499-0378.
Last night Jeff Eats gave Mexican joint–Cabo Flats a shot. Just so you know, Cabo has 2-south Florida locations 1-in Palm Beach Gardens, 1-in Delray Beach. The one I'm talking about- is the Delray Beach outpost which opened about a month ago in the Delray Marketplace.
Let me start by saying that Cabo Flats is an absolutely great looking restaurant. Trust me on this, Cabo ain't a "mom & pop" joint…the Delray Beach location is probably 10,000 square feet- seating maybe 250 and there is an outdoor patio that probably seats close to 150. Jeff Eats is gonna guess here, but I'm thinking that the owners probably went for some heavy duty cash building this joint out—I'm figuring something like $1.5 million. When you check www.caboflats.com for menu/prices you'll also find décor photos. Cabo has an indoor bar/window outdoor bar—and some real high ceilings.
As I mentioned above, Cabo Flats is located in the Delray Marketplace. Don't really have the time to go into Jeff Eats' opinion on this center, but if you do some checking- you'll find a writeup on why I think that this relatively new center is a "disaster" in the making.
Anyway…
Cabo Flats is a real good looking joint–I will tell you, that no question in Jeff Eats' mind, it's way too big for the area's demographics…also, its high ceilings and open doors/open bar window are going to result in "ac" electric bills that will probably shock its owners' collective conscience. But hey, I'm sure they thought all this out before they started construction.
Let's talk food.
Last night Jeff Eats and Mrs. Jeff Eats ate "outside"…service was real good- we ordered guacamole el cabo ($9) which came with a nice sized portion of corn tortilla chips, cabo wings ($10), gringo burger with French fries ($9), chicken fajita ($14), shrimp quesadilla ($13). First let me say, Cabo has its pricing right on the mark–very reasonable and there is no skimping on portion size. Absolutely loved the cabo wings–which were in a mild-bbq sauce. As for the rest of the "dishes" decent enough…but nothing that you guys won't find in chains like Friday's-Chili's. Now-please don't get me wrong, Mrs. Jeff Eats and I thoroughly enjoyed the meal, but Cabo is basically serving what I call chain food.
So what do we got here?
Great looking joint, with decent enough tasting/priced food, in a humongous space-with a high ceiling/open doors/open bar window, in a center that "imho" will suck wind.
To wrap this one up, give Cabo Flats a try. It definitely got the job done for Jeff Eats…but please check your "dynamite" food expectations at the front door. On the business side of the equation- Not so sure as- to how happy its owners are going to be with this "project"– only time will tell on that.
Cabo Flats is open Monday-Wednesday 11:30am-1am, 11:30am-3am, Saturday 11am-3am, Sunday 11am-1am.