Donut King (Minneola)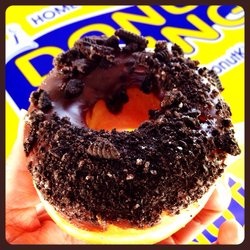 ***** Donut King, 208 South Highway 27, Minneola, Florida 34715, (352) 243-4046.
No! Not Mineola, New York…but rather Minneola as in about 25-miles west of Orlando (MapQuest it).
Anyway…
Last week Jeff Eats "found" Donut King- a terrific donut joint in Minneola, Florida.
For what it's worth, Jeff Eats knows donuts better than anyone else–except for two New York City cops (now retired)-that I've known since 1975–one currently resides in Staten Island, the other in Bonita Springs.
Let me make this one short and sweet…
Donut King makes some of the most delicious donuts that Jeff Eats has ever-ever eaten. Check www.thedonutking.com for donut selection/menu/video/photos.
Now for the kicker, this "hole in the wall" (maybe 4 tables) also "does"- breakfast stuff, subs- (Donut King calls them po-boys), wings, burgers…
Now for the ultimate kicker, this "hole in the wall" makes "Castle Burgers"—when Jeff Eats was eating them, I could have sworn that they were White Castle Burgers…delicious!!
Now for the ultimate-ultimate kicker, this "hole in the wall" is open 24/7.
Now for the "You Won't Believe This Award"–this "hole in the wall's" website spells Minneola wrong…you figured right, its got MINEOLA.
Finally, Donut King is absolutely amazing. If you live, work, visit the Minneola-area, make it your business to stop at Donut King.