I Love Tacos Restaurant & More (Pembroke Pines, Weston)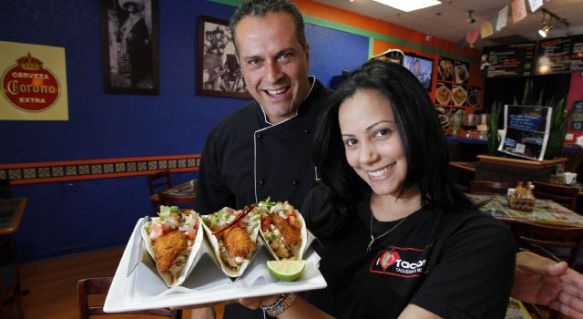 ***** I Love Tacos Restaurant & More, 17722 Pines Boulevard, Pembroke Pines, Florida 33029, (954) 447-6262.
Got a really good "hole in the wall" Mexican joint for you…I Love Tacos Restaurant & More in Pembroke Pines. The reason for the hole-in-the-wall designation, maybe there are 10 tables that seat 4 each–and a small bar that handles maybe 7…One other piece of business, I Love Tacos blah blah–has another location in Weston- 2203 North Commerce Parkway (954) 515-0120. Jeff Eats' tale is about the Pembroke Pines' joint…
I Love Tacos looks like every other "mom & pop" Mexican joint that you've ever been in…I'm assuming, that you know what I'm talking about décor-wise, if not…when you check menu/prices at www.ilovetacosrestaurant.com you'll also find a photo or two on the décor front.
I love Tacos does breakfast Monday-6am-11am, breakfast Saturday & Sunday 8am-11am…lunch Monday-Sunday 11am-3pm…dinner Monday-Sunday 4pm-10pm. So if Jeff Eats got this right, you're plum out of luck if you want to get something to eat Monday-Sunday from 3pm-4pm.
Anyway…
Like I said 34 seconds ago, I Love Tacos is a really good joint—A recent dinner outing had me "doing"- guacamole & chips ($9.90), shrimp taco (3-$11.90), steak quesadilla ($10.50), Mexican lasagna ($12.90)—and I got to tell you, Jeff Eats absolutely loved the food. For the record, I'll even go as far-and say, the stuff I ate- was right up there with the best that I have had in sunny South Florida.
For you inquisitive minds…I Love Tacos has the full-boat of tacos, tostadas, flautas, burritos, quesadillas, enchiladas, tortas—so if Mexican food is your bag, you'll definitely find what to eat.
To close, Jeff Eats highly recommends that you give I Love Tacos Restaurant & More a shot, it's really good.
One final note, Joey the guy who turned me on to this joint, told me that every so often on Friday-Saturday nights the joint has a Mariachi band. If that's the case, you may want to have a few singles in your pocket–to give "them" so they'll go over to another table. Just a thought!.