* The Manhattans' New Year's Eve Concert (Mardi Gras Casino, Hallandale Beach)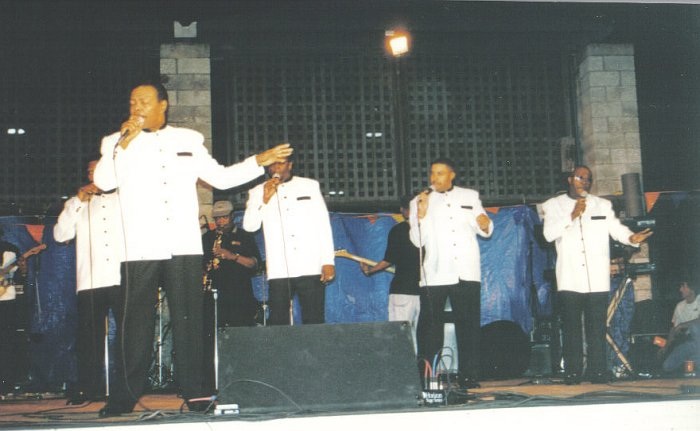 * The Manhattans' New Year's Eve Concert (Mardi Gras Casino, Hallandale Beach)
Got something terrific for you guys…"The Manhattans'"-New Year's Eve Concert at the Mardi Gras Casino is a FREE EVENT…
Starting at 7pm on December 31st- Reserved Seat Tickets will be available on a first come, first served basis at the Will Call Desk.
Just a suggestion, you guys should keep a close-eye on Mardi Gras Casino's website (www.mardigrascasino.fl.com) so that you can follow the Casino's entertainment schedule. This way, you won't be-beholden to Jeff Eats when "you" get cheap tickets or free tickets to some absolutely terrific concerts/events.
Here's a PR piece from Mardi Gras Casino's website.
The Manhattans
December 31, 2013, 10:30pm – In the Grandstand
Legend has it that George "Smitty" Smith, Edward "Sonny" Bivins, Winfred "Blue" Lovett, Kenneth Kelly and Richard Taylor came to call themselves the Manhattans because, as teenage singers in Jersey City, New Jersey, they'd dream about the big time while gazing across the Hudson River at the Manhattan skyline. It's a nice story, but unfortunately it is not true. In fact, the quintet took its name from a cocktail known as the Manhattan that's made from whiskey, vermouth, and bitters. Still, the name suggested class, something the Manhattans have epitomized throughout their long career. First tenor Bivins, who characterizes the group's elegant style as "progressive doo wop," first got together with baritone singer Taylor while they were serving with the Air Force in Germany during the late 1950's. After being discharged, Bivins, Lovett and Smith formed the Dulcets in 1960. In 1961, The Dulcets recorded "Pork Chops" on the Sue Label. In 1963, with the addition of Kelly and Taylor, they formed The Manhattans.
Although they began making records in 1963, the Manhattans didn't strike it big until the mid-1970's, when they successfully bucked the disco trend with a series of romantic ballads for Columbia Records. They had eight songs in the R&B Top 10 between 1973 and 1978, with the composition "Kiss And Say Good Bye" going to Number One on both the R&B and Pop Charts in 1976 and placing in the top five in England and Australia. "Shining Star", which won The Manhattans their first Grammy Award in 1980, made it to number five on the Pop Charts, staying on the charts for 14 straight weeks.
The Manhattans continue to bring their smooth, classy live sound to their fans, with over 100 shows worldwide last year alone. With Edward "Sonny" Bivins at baritone, Al Pazant at bass, Lee "The Reverend" Williams at lead vocal and Charles "Charming Charlie" Hardy and Harsey "The Candyman" Hemphill sharing 1st and 2nd tenor, The Manhattans continue to be one of the most sought after live R&B units of the day.