FruitFlowers (Fort Lauderdale)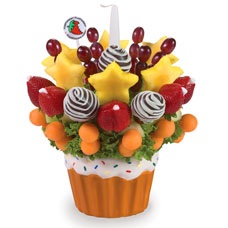 ***** FruitFlowers, 115 Northwest 43rd Court, Fort Lauderdale, Florida 33309, (954) 568-7089.
Got a good story for you guys…
Today-around 5pm Jeff Eats answered the front door bell to be greeted by a delivery guy holding a magnificent sculptured fresh- fruit bouquet wrapped in cellophane. I immediately yelled to Mrs. Jeff Eats who was in the house, "Who died?"—to which she replied, "Nobody died, it's a Hanukka present from the kids."
Anyway…
You guys gotta checkout FruitFlowers (www.fruitflowers.com) a small company that specializes in making/delivering fresh-fruit bouquets. The bouquet we got-came out of the company's Fort Lauderdale store which services Miami to Jupiter. For right now, there are five other locations, that cover New Jersey, New York City, Pennsylvania and Salt Lake City…hey! -I told you it was a small company, didn't I? By the way, FruitFlowers does deliver hand dipped chocolate strawberries/raspberries/blueberries-anywhere in the United States by overnight FedEx/UPS.
Now being the inquisitive person that he is, Jeff Eats immediately tried the bouquet's honeydew, strawberries, chocolate strawberries, grapes, kiwi, cantelope–and I have to tell you, that the fruit was delicious-fresh and as-cold as could be. I'm guessing that the refrigerated truck that the delivery guy came in -had something to do with the fresh/cold part of the story-but that's just an educated guess.
Having survived the "initial" shock that someone might have "passed" (died)…Jeff Eats did a drop of checking on FruitFlowers.
FruitFlowers was started something like 30 years ago in Pennsylvania. For whatever reasons, it never-really developed into a huge company–thus the current 6-locations which when you think about–don't really cover too much geography. About a year ago, Arun Sareen- a Washington, D.C. accountant/businessman acquired the company–and will soon role out a retail store/internet franchise offering–that (if all goes according to plan) should give FruitFlowers a national foot-print in a couple of years.
Now, nothing for nothing, Jeff Eats knows that there are bigger players in the fruit bouquet space…that said, the segment unlike cupcakes/yogurt/burgers isn't overly saturated-so, if Mr. Sareen can consistently (with the operative word here being–consistently) deliver fruit like Jeff Eats-got…the man may just have a business with-legs. As they say, "The proof is in the pudding" so we'll just have to see how this one shapes-up!
When you check www.fruitflowers.com you'll find something like 100 different fruit bouquets–FruitFlowers also does vegetable bouquets…prices from the $30's-$100's. Unlike Obama's–the internet system/telphone ordering systems appear to be a snap to use.
Finally, just in case you're wondering—4 years tuition at University of Arizona, 4 years tuition at University of Connecticut, 1 year tuition at Nova University and the little rats went for a grand total of 85 bucks for all 8-days of Hanukka…you do the math!