Fork & Knife (Boca Raton)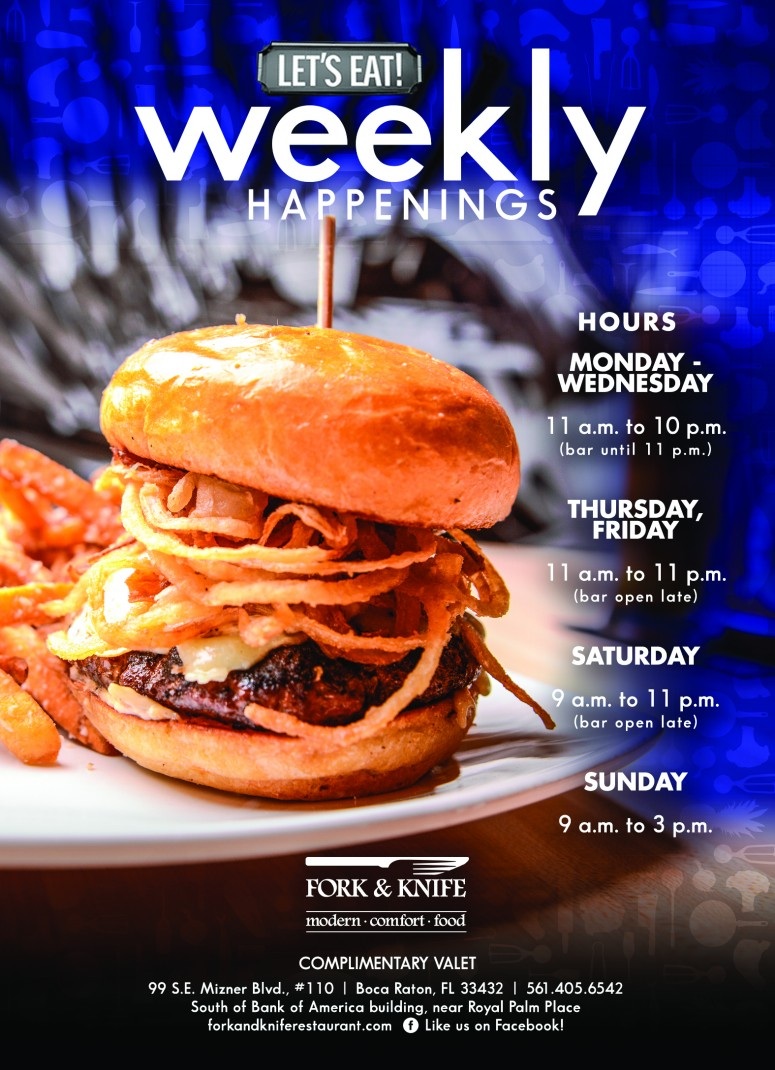 ***** Fork & Knife, 99 Southeast Mizner Boulevard, Boca Raton, Florida 33432, (561) 405-6542.
Way-back on November 24th- Jeff Eats did a "story" on Fork & Knife…that story is reprinted below.
Here is an update for you guys…
Last night, Jeff Eats & Company (Mrs. Jeff Eats, Son Jeff Eats, Daughter Jeff Eats–everyone is home for Thanksgiving) ate dinner at Fork & Knife…
Let me start by saying, that Fork & Knife is a great looking restaurant. When you are there, you can't help but notice the huge black/white photos of iconic American restaurants that decorate the walls. Last night, Lee Tushman the owner explained that the photos represented various regions/food styles in the United States— Carneige Deli (NYC-), Wolfie's (Miami Beach), Roscoe's House of Chicken & Waffles (Los Angeles), The Varsity (Atlanta)–there are several others and I'll leave Mr. Tushman to give you book, chapter and verse as to what they all "mean." Fork & Knife also has something real cool–a communal table, which seats up to 12 "strangers" if they would like to meet/eat with, well-total other strangers! Lee Tushman is an interesting guy and a realist to boot-"Look I'm not trying to reinvent the wheel, I'm just doing good solid food at reasonable prices." When you try Fork & Knife, I think you'll enjoy talking to Tushman and his managers. Unless I'm reading this all wrong, these guys-are trying to create a "Cheers" type-deal, you do remember that tv show don'tcha? I say this, based on having watched how Tushman and two floor managers greeted and engaged every person at the bar-tables-booths.
Anyway…
Items ordered…chopped salad, wedge salad, fried chicken and waffles, cheeseburger, hot dogs, chicken pot pie, french fries, sweet potato fries, french green beans–and I gotta tell you everything was right on the money. Are we talking food "like" Jeff Eats has never ever had before, nope!–but like I just said, right on the money. A special shout-out to Detroit born/bred Tushman's "Detroit" hot dog–not exactly like the Sabretts, Hebrew Nationals, Nathans that I grew up with in Brooklyn. Fork & Knife's version is 1/2 pork-1/2 beef in a natural casing–grilled and topped with chopped onions/mustard/chili on a steamed bun…tastes more like a sausage than a "frank" and it was absolutely dynamite-Fork & Knife serves 2-for 10 bucks and they come with a side of hand cut fresh french fries–don't miss this one!
Jeff Eats just told you about the items that were ordered…after eating—the waiter delivered COMPLIMENTRY desserts…ice cream puffs, fried wonton apple fritters topped with cinnamon ice cream, Smore's lollipops and crème brulee. On the dessert front–the verdict was unanimous (very rare in the Eats' household) puffs, fritters and Smore's delicious with the brulee a drop too sweet.
For those of you guys who are now saying…Hey Jeff, the desserts were complementary blah blah blah.–I say, first-you don't know how to spell complimentry and "No one told you not to have a food blog."
Let me wrap this up this way…
I really enjoyed Fork & Knife…solid food, pleasant service, figure 25 bucks a head for dinner.
You can check www.forkandkniferestaurant.com for menu/prices/hours/other stuff.
*****
American* Fork & Knife (Boca Raton)
Posted on November 24th, 2013 · American Boca Raton · 12 Comments »
* Fork & Knife, 99 Southeast Mizner Boulevard, Boca Raton, Florida 33432, (561) 405-6542.
Let's play a-little game… "How smart is Jeff Eats?"
This morning, a new American-Style joint Fork & Knife- opened in Boca Raton…
Jeff Eats is very familar with the 6,000 square-foot spot which Fork & Knife now occupies…as it has housed- God Only Knows how many failed restaurants.
Now for the game…Jeff Eats is willing to bet you a buck (I know, real big bet!) that Fork & Knife becomes a huge success. If you want to play, mail a buck or as many bucks that you want -to Post Office Box: I Got You, Boca Raton, Florida 33496…and yes I know that Soupy Sales first thought up this idea way back in the 1960s.
Anyway…
This afternoon, Jeff Eats and Mrs. Jeff Eats paid Fork & Knife a visit. We didn't eat. What we did, was tour the restaurant with one of the owners- Lee Tushman–review its menu and "discuss" his background, plans and goals for this endeavor. Now I maybe going out on a limb here, because I know that you guys are gonna be sending a ton of one-dollar bills…but based on my outing, I really think that Tushman and his partner Scott Niskar- know exactly how to create and run a successful restaurant.
Now let me tell you what Jeff Eats and Mrs. Jeff Eats saw…Fork & Knife is a retro- throwback to the diners of the 1950s. The joint which has both indoor/outdoor patio seating (with a separate full-bar area) is an absolutely great looking restaurant. If Jeff Eats was even slightly computer literate, I'd have some photos for you to checkout, but I'm not, so you don't. Trust me, this is one of the handsomest-coolest looking restaurants that I've seen in quite sometime. Just so you know, it isn't faux black and white tiles with red leather stools and booths—think Houston's, Cheesecake Factory, Morton's but with a cool 50s vibe.
Now. let me tell you what Jeff Eats heard/read…the reasonably priced breakfast/lunch/dinner menu is jammed with stuff like burgers, hot dogs, mac & cheese, fried chicken & waffles–I do believe that many people call this "comfort food"…if Jeff Eats is wrong on that definition–so be it, but this type of food is sure comforting to me. Tushman and Niskar are planning on running a real family oriented/casual joint–so get your shorts/tee shirt ensemble ready to go.
Like I said at the top of this rant…the joint opened today for business. Its website www.forlandkniferestaurant.com is still under construction, but according to the owners should be fully operational tomorrow…so you can check menu/prices/photos, I guess- tomorrow.
Call it more than a gut feeling…but Jeff Eats' bet is that 99 Southeast Mizner Boulevard has finally got itself a keeper.
Jeff Eats plans on trying Fork & Knife sometime in the 30 days or so. If you get there before I do, give me the skinny on your meal.
Finally, Fork & Knife recently put out a PR piece on its business. It's printed below…it will give you a drop more color on the restaurant.
By the way to show you Jeff Eats' "doubters" how smart Jeff Eats is…I'll also go on record that Fork & Knife's currently planned 7-days a week breakfast..will be quickly scrapped for a Saturday & Sunday only schedule. Real simple, the area's population mix isn't right for a 7 day operation.
Looking forward to receiving your dollars…no checks please!