Flashback Diner (Boca Raton, Davie, Hallandale Beach)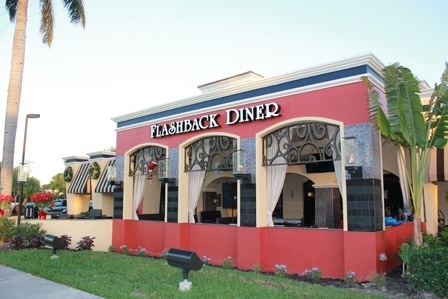 Boca Raton
***** Flashback Diner, 220 South Federal Highway, Hallandale Beach, Florida 33009, (954) 454-8300.
Nothing for nothing…
Every day, something like 22 times Jeff Eats gets asked–"How come Florida doesn't have 24 hour diners like there are in New York and New Jsersey?"…and something like 22 times a day, I reply–"Well, we sure got plenty of Greeks living down here in South Florida, so maybe its-got something to do with–maybe the local population isn't big enough to support 24-hour diners, but that's just a guess, I'm not really sure."
Anyway…you guys do know what-an exception to the rule is? Sure you do!
Let me start by saying that on March 3, 2008 I told you guys about Lester's Diner in Fort Lauderdale–so there's "one" exception for you.
Now, let me tell you about -Flashback Diner which currently has outposts in Hallandale Beach and Davie which are also exceptions to the rule. Just so you know, a third Flashback Diner is set to open in Boca Raton in mid-December 2013,
At this stage of the game, you can check menu/prices/locations/photos/other stuff at www.flashbackdiner.com.
Now just so we are straight, Jeff Eats has a review (1/23/2009) for a Flashback Diner in Jupiter…different owner and story than the Boca Raton/Davie/Hallandale Beach gigs.
Now if you are still following me…
Jeff Eats has eaten exactly three times in the Flashback in Hallandale Beach–I have not eaten in the Davie restaurant. For those of you into "fine details" I did a breakfast, lunch and dinner and on my honor-can attest that the Flashback Diner will have you believing that you are in the El Greco Diner in Brooklyn, or the Blue Bay Diner in Bayside, or the Plaza Diner in Fort Lee, or the "You Fill In The Name" Diner in "You Fill In The Town"—–that said, for the record, it doesn't hurt to squint your eyes just a drop when eating at the Flashback Diner to make your "outing" a drop more New York/New Jersey realistic.
Let me wrap this one up…
SOLID REAL GOOD DINER FOOD—and you can get it 24 hours a day–7 days a week…
One final thought, as mentioned about 32 seconds ago–Jeff Eats has only eaten in the Hallandale Beach joint…how the Davie/future Boca joints are-is to be determined down the road.
Update: December 16, 2013
Last night Jeff Eats, Mrs. Jeff Eats and another couple decided to "try" the new Boca Raton joint which had opened 5 days earlier. When we arrived at the restaurant around 6:30pm it was absolutely "slammed" with people and there was a 30-minute wait to get a table. To make a long story short, many entrees and sides were "sold out"…suffice it to say, this meal was a total mess, and that's being kind…things that should have been hot were delivered ice-cold, wrong dishes were delivered, the waiters weren't sure which tables they were covering, one mashed potato side tasted as if had come out of an Elmer's Glue Jar, it took 40 minutes from the moment we sat down to get our entrees—look I could go on and on, trust me, the restaurant was packed with people who were NOT HAPPY CAMPERS…throw in a manager who when "advised" of the mess could only answer "I'm sorry."—no offer of a complimentary dessert/item or discount on the check. Look! Jeff Eats appreciates that the joint is brand-new, but my money is my money–and Flashback's growing pains shouldn't be mine. Hopefully Flashback gets its act together real-fast… if it doesn't, I guarantee you that as Freddy Mercury once sang (hey I know it was Queen) "Another one bites the dust."