Philadelphia Water Ice (Lantana)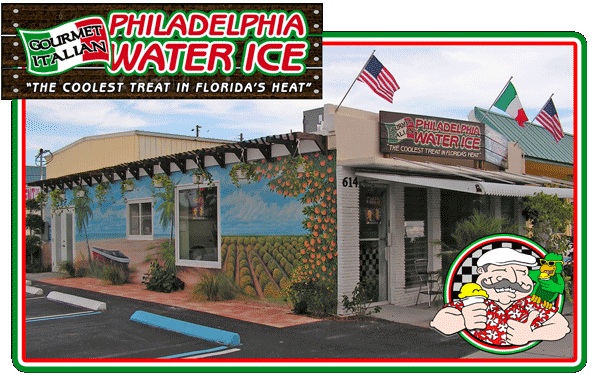 ***** Philadelphia Water Ice, 614 North Dixie Hghway, Lantana, Florida 33462, (561) 585-1286.
Let me start by saying…Jeff Eats loves Italian Ices–with that in mind…
This afternoon Jeff Eats "tried" Philadelphia Water Ice in Lantana. Real simple concept here–hole in the wall joint with maybe 5 seats inside and a dozen outside that MAKES ITS OWN–Italian Ices (water ices and cream ices) -figure something like 30 rotating flavors–it also has -maybe 6 hard ice cream flavors and vanilla soft-serve, which are supplied by an outside source.
Sampled water ices–lemon, cherry, pistachio, chocolate, cappuccino, vanilla chip…Do you know what a pig in sh@t is? Well, this afternoon Jeff Eats was a wild boar…and that's BOAR not BORE-although on occasion I have been accused of being the latter…All of the ices were delicious…I especially liked the cappuccino and lemon flavors, but like I just said, they were all delicious.
To rough the ices' prices out for you, figure a drop- less than a buck a scoop…and the counter people are more than happy to let you "try" whatever flavors you'd like.
At this stage of the game, check www.phillyiceflorida.com—flavors/prices/photos of the joint.
Philadelphia Water Ice is open Tuesady-Sunday 11:30am-9pm, closed on Monday.