* Solid Brass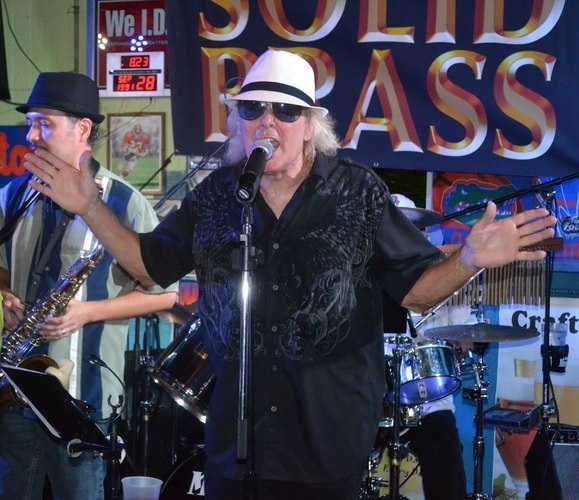 * Solid Brass
Last Sunday Jeff Eats "caught" an absolutely terrific Palm Beach based 60s-80s Rock'n Roll cover band—Solid Brass. The groups' name, should tell you that one of its specialties is–playing the songs of such horn bands as Chicago, Blood Sweat & Tears, The Ides Of March and The Soul Survivors…and the 5 piece rhythm and 3 piece horn section came through with dead-on versions of the requisite hit records. Now for the kicker, Solid Brass isn't just a one trick-pony…its songlist also includes covers of The Temptations, The Beatles, The Grass Roots, Sam & Dave, Santana, The B52's, just to name a few. Now nothing for nothing, Jeff Eats has seen a ton of lead singers in his day–and I gotta tell you, Solid Brass' frontman Fred Moore -can sing with the best of them, think Joe Cocker and you'll be on the right page.
Of interest, although Solid Brass has only been around since 2011–it has developed a huge South Florida fan base. Recent appearances in no particular order include -CityPlace (West Palm Beach), Boston's On The Beach (Delray Beach), Mardi Gras Casino (Hallandale Beach), Seminole Coconut Creek Casino (Coconut Creek, that figures!), Johnnie Brown's (Delray Beach), Delray Marketplace (Delray Beach), Old Key Lime House (Lantana)…and the beautiful thing about all of "these" venues, the shows were FREE!
If you want to see a really top-notch band, go and see Solid Brass…
Check www.solidbrassband.com for schedule/videos/other stuff.