Nino's Pizza & Restaurant (Orlando)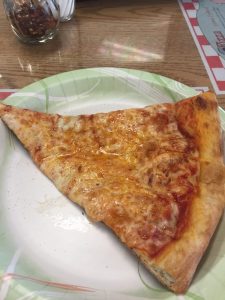 ***** Nino's Pizza & Restaurant, 6194 Edgewater Drive, Orlando, Florida 32810, (407) 253-7363.
The next time you are in Orlando…visiting the kid at UCF, or riding the rides at Disney & Universal, or doing Halloween Horror Night or shopping at some outlet mall—do yourself a huge favor and go eat at Nino's Pizza & Restaurant–a "mom & pop" red sauce joint that will absolutely blow you away.
Jeff Eats' poison-Halloween Horror Night at Universal Studios…Mrs. Jeff Eats' -outlet mall, as if you didn't see that one coming!
Anyway…
Like I said 9 seconds ago, you guys gotta try Nino's Pizza. This un-assuming pizza joint, turns out some of the most delicious New York Style Pizza -Jeff Eats has had in Florida. A large 16 inch -thin crusted/sweet sauce pie will set you back $10.95. After you and your family/friends order the pizza, figure on splitting…equally-delicious sausage/peppers/onions stromboli roll ($6.95), a veal parmigiana 10″ sub ($8.45), a meatball 10″ sub ($6.95) and some meat lasagna ($9.95). By the way, based on how Jeff Eats eats, I'm thinking that the aforementioned (that's the lawyer in me!) family/friends are maybe 3–tops 4 people…if you got more, just order more stuff.
You can check menu/prices/photos at www.ninospizzarestaurant.com
Let me wrap things up here…
Nino's food was so terrific, that Jeff Eats "took to go" a sausage/pepperoni stromboli roll ($6.95) and a large mozzarella/ricotta calzone ($13) for a next day Boca Raton reheating.
No fooling around here…Nino's is a must try.
The joint is open Monday-Saturday 10am-9pm, closed on Sunday.