* Elvis-Motown Christmas-Hanukkah Holiday Spectacular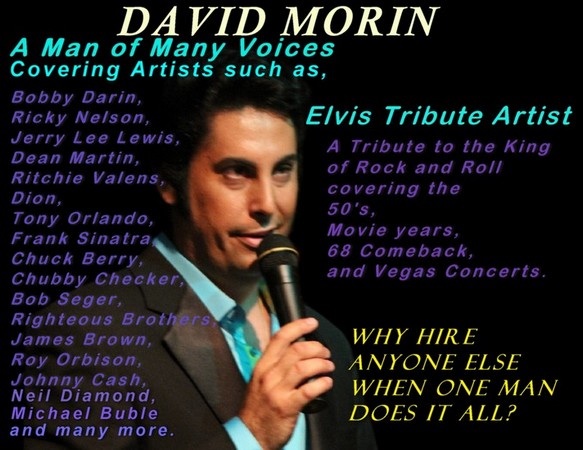 * Elvis-Motown Christmas-Hanukkah Holiday Spectacular.
Real simple…
On Saturday Night, December 21st at Olympic Heights Community High School, 20101 Lyons Road in Boca Raton–Joey Dale Productions is presenting a "Holiday Spectacular" show starring two of South Florida's top tribute acts–David Morin as "Elvis" and Motown In Motion recreating the sounds/moves of such Motown legends as The Temptations, Four Tops and Smokey Robinson & The Miracles. Also on the bill. local dance group–Destination Dance and the Olympic Heights Choir.
This show is General Admission…with doors opening at 7pm, show-time at 8pm. Tickets are 25 bucks, and you can purchase them at www.bocashows.com or by calling (954) 254-0711. Tickets will also be on sale the day of the show starting at 1pm at Olympic Heights Community High School.
Now…let's see what we got here—Jeff Eats has seen David Morin three times, twice at the Mardi Gras Casino in Hallandale Beach and once at the Seminole Hard Rock Casino in Hollywood–the man puts on a real nice-entertaining-convincing show–backed by a 4-5 piece band. Don't be concerned-Morin comes decked out in the expected tinted glasses, white sequined jumpsuit, sweaty scarves-and all! Jeff Eats has also seen Motown In Motion and these guys will actually have you believing that David Ruffin, Smokey Robinson, Levi Stubbs et al are in the house. These two "tribute" acts alone- are worth the price of admission. Now for the kicker, adding to the holiday-theme you also -got Destination Dance and the Olympic Heights Choir— Jeff Eats isn't familiar with these acts—but I guarantee you, that many of the theatre's seats will be filled with these performers' parents, siblings, relatives and friends (talk about a great way of packing the house).
Here's some homework for you guys, go to wwwmotowninmotion.com and www.alwaystcb.com—watch the videos, betcha a buck you're going to want to see this show!
As for the theatre itself, years ago-Jeff Eats attended a General Admission comedy/magic show there—if memory serves me correctly (but I wouldn't swear to it), there's about 850 seats and every-one of them is just fine. That said, guaranteed the "fans" of the dance and choir groups are gonna be there at 7pm sharp…so you are on notice.
Nothing for nothing–but, Jeff Eats and Mrs. Jeff Eats will be in attendance–as guests of Dave Morin and Motown In Motion—so assuming you aren't a deranged reader, please feel free to stop and say hello and ask Jeff Eats to sing his stunning version of "Blue Christmas."
All in all…Elvis-Motown Christmas Hanukkah Holiday Spectacular should be a really fun night!