* Next In The Fad Department—Biscuits!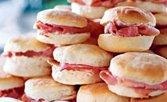 * Next In the Fad Department—Biscuits!
Jeff Eats knows and I hope you guys know, that–self serve yogurt stores–cupcake stores–grilled cheese stores–most "upscale" fast food hambuger stores are F A D businesses which have very short shelf lives. Don't believe me, write me a note, let's say in 6 months and see if old Jeff Eats was right or wrong on these babies. Now for sure, some will suvive, but my money says that there are going to be a whole lot of unhappy franchisees out there and a whole lot of vacant strip center bays.
Anyway…
In recent days, Jeff Eats has read several articles and e-mails about BISCUITS. The "game" here…hot- freshed baked biscuits either stuffed/or topped with all kinds of fillings. The word going around, is that biscuit stores/franchises are being built/offered based on this concept.
Not sure if it was P.T. Barnum or W. C. Fields or my Uncle Abe who coined the phrase…"A sucker is born every minute."—What I do know, is that ANYONE who buys into this concept and puts their hard earned money at risk—is a SUCKER!!
As Detective Tony Baretta use to say…"And that's the name of that tune."