Amici's Trattoria Italiana (Miami/Kendall)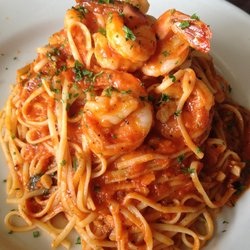 ***** Amici's Trattoria Italiana, Hammock's Town Center–10201 Hammock's Boulevard, Miami, Florida 33196, (305) 388-3787.
Jeff Eats, Mrs. Jeff Eats and two other couples–recently had dinner at Amici's Trattoria Italiana in Kendall…check Amici's website www.amicismiami.com for menu/prices.
Before Jeff Eats opines on the food, Amici's unlike the vast majority of its red sauce South Florida brethern–sisteren (?) decorated with Italian urns old wedding photos and tomato cans is an absolutely gorgeous up-scale "looking" art/deco looking joint—that said, your shorts/tee shirt/flip flop-sneakers' ensembles will work just fine there. To get some idea as to what Jeff Eats considers "an absolutely gorgeous up-scale 'looking' art/deco looking joint"–take a look at the video that's on Amici's site. Nothing for nothing, the video's music had me thinking that I was watching a Star Wars' movie—but I "think" I get the idea–that Amici's restaurant is out of this world…then again, Jeff Eats maybe reading/seeing/hearing too much into the video/music–so let's get onto the food.
As I mentioned 27 seconds ago there were 6-people at the table…ordered food included—veal parmigiana ($13.95), sausage & peppers ($12.95), shrimp fra diavlo ($14.95), lasagna ($10.95), penne vodka ($13.95), large 18″ NY-style pizza ($11), eggplant parmigiana ($11.95) and everyone agreed that the food was real good. Now just so we are straight, although Amici's is a "dolled up" joint, under the surface it's your basic-hearty red sauce Italian joint where you come to fress (non Jews look it up) with plenty of Coke/Pepsi, beer, wine to wash down the food. For you guys who like a pecking orders, Jeff Eats would put the lasagna and sausage & peppers–as 1-2…but like I said before, everything was real good.
Let me wrap this one up…
Jeff Eats loved Amici's Trattoria Italiana. Good solid food, good service, reasonable prices—and a nice change from the mundane "mom & pop" Italian joint decor.
Amici's Trattoria Italiana is open Monday-Thursday 11am-10pm, Friday-Saturday 11am-11pm, Sunday noon-10pm.